DRIVING CHANGE THROUGH OUR REDUCTION EFFORTS.
Piloting initiatives to send less waste to the landfill.
We continuously seek new ways to reduce waste and increase recycling in our facilities across the business. Initiatives include launching waste audits to identify key opportunities, improving communications around policies, optimizing processes, centralizing waste contracts to make it easier for facilities to adopt recycling programs and reallocating recycling equipment to boost participation. We are developing and piloting initiatives with our U.S. retail stores that will help increase diversion rates, including improved signage, processes and communications related to several different waste streams.
Additional data about total waste generated, including materials diverted for recycling, can be found in our Sustainability Performance Metrics.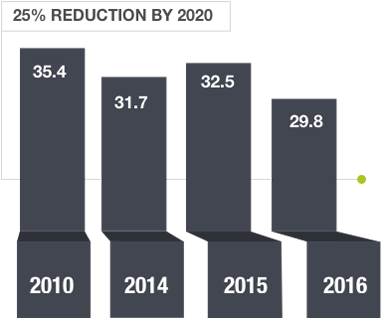 LANDFILL WASTE REDUCED BY 16%.
Goal: 25% reduction by 2020.

Thousand Short Tons sent to Landfill.
performance highlights

15.7% reduction
in waste sent to landfills
Goal:
Reduce the amount of waste we send to landfills by 25% by 2020.

15.7% reduction
in waste sent to the landfill
Progress:
OFF TRACK
In 2016, we sent 29,800 tons of waste to landfills in North America.
PERFORMANCE SNAPSHOT
Learn about our corporate responsibility focus areas and progress. Plus download a summary of our key performance metrics.