ELECTRONIC WASTE RECYCLING
Helping customers responsibly recycle their eWaste.
Staples has been offering free office electronics recycling to all retail customers in the U.S. since 2012. Customers can bring any brand of office technology in any condition, regardless of where they purchased it, to Staples® stores for free recycling by our recycler, ERI Direct. We have similar eWaste programs in Canada, with some variations and exclusions depending on the province.
Staples is an e-Stewards Enterprise, meaning we have committed to using certified e-Stewards® Recyclers wherever feasible to handle the electronic materials we collect for recycling. And through participation in EPA's Sustainable Materials Management Electronics Challenge, Staples is dedicated to increasing responsible electronics recycling by increasing the amount we collect from customers, working with recognized recycling partners and reporting on our progress.
In addition to our retail programs, Staples B2B eWaste recycling program allows businesses to easily recycle old electronics such as computers, cell phones, keyboards, telecom equipment and printers. Customers simply order boxes online, fill them and send them back to our recycler using the prepaid shipping label.
Staples also accepts ink and toner cartridges for free recycling in our retail stores, through staples.com and through our Staples Business Advantage operations. In 2016, Staples updated our eWaste and ink and toner recycling metrics and started measuring the combined weight of electronics and ink and toner. We also set a goal to collect 50 million pounds of material in North America annually. While we have collected over 50 million pounds of electronics and ink and toner in the past, we set the goal at 50 million pounds because our volumes of materials collected have been declining year over year due to multiple changes in the marketplace. These include changes in frequency of printing, the continuing right-sizing of our retail network, and the decreasing weight of end-of-life electronics, all of which affects our total weight of material collected. In 2016 we collected a total of 48.7 million pounds of electronics in North America for recycling, of which more than 22 million pounds was comprised of ink and toner.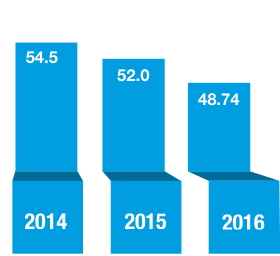 COLLECTED 48.7 MILLION POUNDS OF eWASTE.

Millions of pounds recycled.
FURNITURE RECYCLING
We partner with companies to provide ways to trade in, remanufacture and donate old furniture.
In the U.S., Staples Business Advantage teamed up with Davies Office to offer customers a unique program to trade in and remanufacture their existing office furniture. Davies Office is a leading provider of high-quality remanufactured office furniture solutions, taking older furniture assets and transforming them to look and perform like new, at a fraction of the cost. Staples Business Advantage customers can capitalize on innovative product banking and exchange programs. Customers can get high-quality remanufactured furniture, instead of keeping their old assets in storage or sending them to a landfill. The benefits for our customers include updating office workplaces cost effectively, earning credit toward green building standards like LEED® and receiving detailed reporting quantifying the environmental benefits.
In addition, Staples Business Advantage, through IRN, supports furniture donation and reuse for our U.S. customers. IRN works with a variety of organizations including universities, public and independent schools, corporations and government agencies to reuse surplus furniture assets. It then matches those assets with charities, at a cost that's less than throwing the furniture away.
performance highlights

48.7 Million
pounds of
e

waste collected
Goal:
By 2020, recycle 50 million pounds of eWaste each year.

48.7 Million
pounds of ewaste collected
Progress:
ON TRACK
In North America, we collected a total of 48.7 million pounds of electronics and ink and toner for recycling in 2016.
PERFORMANCE SNAPSHOT
Learn about our corporate responsibility focus areas and progress. Plus download a summary of our key performance metrics.