Energy Efficiency and Renewables
Supporting energy-efficient programs and reducing carbon emissions have been cornerstones of our sustainability initiative for many years. Staples® energy management program is comprehensive, focusing on technological, behavioral and process-based solutions across our buildings and fleet.
Driving efficiency through the ENERGY STAR
®

program.
Staples has participated in ENERGY STAR since 1999.
A collaborative initiative of the U.S. Environmental Protection Agency (EPA) and the U.S. Department of Energy, the ENERGY STAR building programs help companies like Staples save money while protecting the environment using energy-efficient practices and products.
Through aggressive goal setting, participation in the ENERGY STAR Battle of the Buildings and other initiatives, Staples is helping drive more energy-efficient and sustainable buildings. Our energy reduction program continues to save energy at facilities in North America and internationally. In the U.S., this results in over $1 million in operating expense savings annually. By the end of 2016, we had 643 active U.S. buildings that were ENERGY STAR verified. This represented 51% of buildings that were open and active at the end of the year. As a result, we've exceeded our 2020 goal.
Staples has received the honor of being recognized as ENERGY STAR Partner of the Year for eight consecutive years, and for the fifth year in a row received the prestigious award of Sustained Excellence by the EPA, honoring our commitment to energy reduction for a better planet.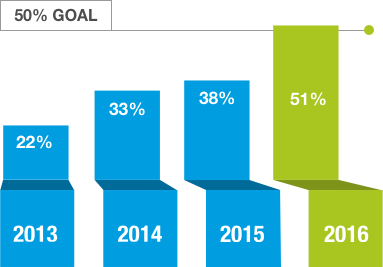 ENERGY STAR GOAL MET FOUR YEARS EARLY.
As of 2016, 51% of our buildings are ENERGY STAR verified.

% of Energy Star Verified Buildings

Goal Reached
USING CLEANER SOURCES OF ENERGY.
Staples hosts 33 solar arrays across the country.
While Staples' energy reduction efforts are contributing substantially to reducing the company's carbon footprint, we're seeking to advance the reduction of carbon emissions through the adoption of renewable and cleaner sources of energy including solar and fuel cell technology.
In 2016, Staples purchased 3% of its U.S. electricity needs in the form of renewable energy certificates (RECs). Staples also hosts a total of 33 solar arrays in the U.S. across 30 facilities. The solar panels located on our sites generated about 18 million kWh of clean energy in 2016. As an early adopter of fuel cell technology, we continue to operate fuel cells at our distribution centers in Ontario, CA, and Rialto, CA. In both cases, the fuel cells are complemented by solar power installations.
Staples is a signatory to the WRI Renewable Energy Buyers' Principles and the American Business Act on Climate Pledge, voicing our support for increasing corporate access to renewable energy and to the importance of business actions to reduce climate impacts.
CONSISTENT FOCUS ON ENERGY REDUCTION ACROSS ALL OPERATIONS.
Committed to conserving resources and cutting costs.
As demonstrated by our ENERGY STAR certified buildings commitment and progress, Staples® is focused on reducing energy consumption through our entire organization.
Here are some of the measures we've taken:
Regularly upgrading lighting to lower wattage and more efficient fixtures, lamps and ballasts

Putting in lighting motion sensors for occupancy and daylight harvesting

Installing energy management systems for the control of lighting and HVAC

Installing variable-speed drives on HVAC equipment, air compressors and conveyors

Participating in energy consumption demand response programs
We also regularly conduct energy audits to identify energy reduction opportunities in our stores and distribution centers, focusing on lighting, battery chargers, conveyors, HVAC and our energy management system.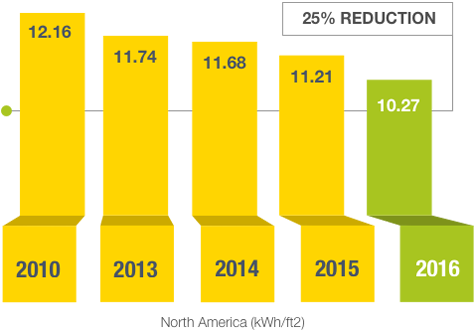 Electrical intensity reduced by 16%.
Goal: 25% reduction by 2020.
IMPROVING OUR TRANSPORTATION NETWORK.
We've instituted more sustainable delivery practices across our fleet.
After our suppliers deliver the products we sell to our warehouses, Staples manages the delivery of these goods to our stores and/or our end customers. We operate our own Staples delivery fleet and we also work with third-party trucking and delivery/courier partners. In all cases, the transport of products results in consumed fuel, carbon emissions and outbound packaging.
Staples has consistently worked to improve the sustainability of our delivery practices. Initiatives such as electronically limiting the top speed of our U.S. delivery trucks to 60 miles per hour, using idle management technologies to shut off engines after three minutes of idle time, and piloting using cleaner vehicle technologies like fully electric and natural gas-powered trucks in our U.S. fleet have helped Staples to gradually improve our long-term fuel economy trend.
REDUCING OUR CARBON EMISSIONS.
Investing in renewable energy and investing in the future.
Thanks to our energy efficiency and renewable energy investments as well as continued consolidation of our retail locations, our total North American carbon emissions decreased to 294,612 metric tons in 2016, a reduction of 39% from our 2010 baseline.
See our CDP Climate Questionnaire response for more details about our carbon emissions calculations and methodology, climate strategy, and perceived climate risks and opportunities.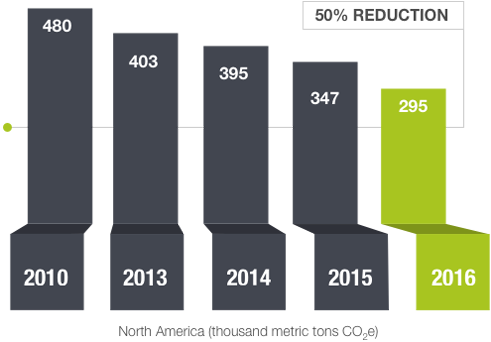 Carbon emissions cut by 39%.
Goal: 50% reduction by 2020.
performance highlights
51%

Active facilities energy star certified

15.6%

reduction in electrical intensity

39%

reduction in carbon emissions
See all highlights
PERFORMANCE SNAPSHOT
Learn about our corporate responsibility focus areas and progress. Plus download a summary of our key performance metrics.