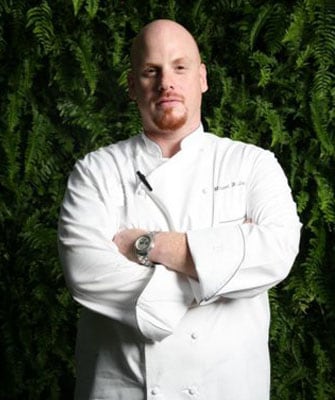 Chef Michael B. Jacobs got his start in the restaurant and hospitality industry when he was young and catered his own bar mitzvah, and continues today as the CEO of Strategic Hospitality Group, the Miami Beach-based restaurant and hospitality consulting firm he founded in 2007. The business manages and runs food and beverage outlets for various clients and companies, evaluates and re-conceptualizes underperforming restaurants, offers a personalized meal-delivery service, and more. Additionally, Strategic Hospitality Group runs the Hidden Kitchen popup café, where Jacobs and his team serve up exclusive meals and cooking workshops.
Jacobs feeds his success by exceeding expectations and delivering a great customer experience. That's the methodology that's allowed him to graduate with honors from Johnson & Wales, appear on several Food Network television shows (including the Food Network Challenge series and Chopped) and become the team chef for the Miami Heat.
We caught up with Jacobs in between gigs to learn his secrets for making more happen in and out of the kitchen.
Where does your passion for cooking and the restaurant business come from?
When I was really young, like 7 or 8 years old, I would come home from school, and before I was allowed to go out and play with my friends, my grandmother would make me a feinkochen, which is a kind of flat omelette. We'd sit together while I ate it and watch Julia Child. As time went on, I would help her make the omelette.
Then, my stepfather was a caterer. I would go with him, and we would do events for clients like Michael Dukakis, Paul Fireman and others. I saw the people standing up and applauding him for how he was cooking, and I thought, "I could do that too." I liked the instant gratification. When I was 13, I catered my own bar mitzvah — I prepared gourmet kosher Chinese food.
What's the most surprising thing you learned along the way as you've built your business?
When you exceed people's expectations, you get more business. That's not really surprising, and actually, it's just expected. But in a town like Miami, it's very hard to get good-quality service and help. So when you find it and get it, it's incredible how much people refer you.
I'd say one of the biggest challenges is juggling all the options we have and trying to exceed everybody's expectations. We offer so much, but until you zero in on what somebody wants, it's tough. We handle that by being direct, upfront and honest with people, telling them what we can do, what our approach is, and if they want us to do something, this is how we'll do it. A lot of other people in certain businesses fluff it up and that makes it difficult. You have to be service oriented. You have to want to make people happy and please them. If you don't, then you're in the wrong business.
What are you most proud of?
Most recently, being the chef for the Miami Heat players, coaches and training staff. We've been doing it for almost five seasons now. And doing it during the back-to-back championship seasons was pretty cool. I didn't get a ring, though.
How do you make more happen?
Everything is always about putting a carrot in front of you, and that goes for me, too. I have what I call an "irons in the fire" list. We have a whiteboard that sits on my desk most of the time with a pen, and any time I have an idea or a lead, I put it on that board. Any time I have a free moment or I'm lacking stimulation, I look at that board and I'm inspired.
Is there a tool or service you couldn't run your business without?
When I learned to cook, we used cookbooks and we'd have to go to the library and take out a book. When you went to culinary school, you'd have to sit and work with a chef and learn the recipe. You were lucky if you got every single ingredient because they'd hide certain things from you. Nowadays, a kid sits in class and just has to Google a recipe, and boom, there it is. There was none of that when I was a kid, or even when I was just starting out. I miss the fine tuning — the doing it over and over until you perfected the recipe.
That said, technology helps so much. The cloud is super important for us, because we can place information there, and employees, clients and various people can access it from wherever they are, if they need to follow up on something or have a recipe question. Before, you'd have to fax or email something, but now, it's just on the server. It's made things much easier.
For actual cooking, it's a kitchen knife — a Japanese knife I've had for a long time. I use it for slicing and dicing all kinds of things.
How does Staples help your business succeed?
It's where we get our office supplies, and the free shipping is always a plus, but going to the store is more of an event for me. I always see people I know when I shop there. It's almost like going to the market. When you see your customers at Staples, they're doing business as well, so it's a great place to network. All Staples has to do is set up a coffee shop and you're all set.
Time is of the essence today, and everybody is trying to modify their schedules. So the more you can do in one place, the better off you are. If I can pick up cleaning supplies for the office, paper, ink and the other stuff that I normally would, and also pick up some new cookware at the same place, then I sure would. Why not?
Related Products & Services
blog comments powered by