Navigate to Top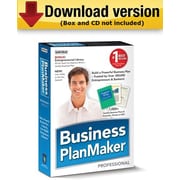 Business PlanMaker Professional 12 for Windows (1-User) [Download]
Item : 416093
Save Time! 1, 000+ sample business plans and excerpts-ready to edit! New! Enhance your plan with graphics, photos, cover illustrations, and org charts-New! Intro Video to get you started!-Exclusive! Quick Trends Industry Report
Exclusive! Entrepreneurial Library with valuable tools to ensure a quality business plan!-Clearly communicate your ideas to investors and employees. - Powerful financial modeling tool projects sales, expenses, and cash flow quickly and accurately.
Automatically performs calculations, computes financial formulas and creates spreadsheets, charts and reports. - Powerful and accurate financial forecasting, including 3 and 5-year forecasts.