Creating a Productive Home Study Space for Your Student
How to get the most out of your home space if your child isn't going back to the classroom
Many schools will take a hybrid educational approach this year, with kids spending at least part of their time at home. With this in mind, it's important to help your child establish a comfortable study-and-work space at home that supports productivity.

"You want to create an inviting place that kids can use to do their work, avoid distractions and then also get away at the end of the day," says Danielle Ducharme, Associate Category Merchant at Staples.

The right setup will be different for every child. Ducharme suggests thinking about these items and approaches to create your child's at-home study space.
Create a designated area
Even if kids don't have their own room, it's important to have a space that's devoted to their learning. An always-on workspace supports productivity because you won't need to set up or dismantle a workspace each day, so your child can jump right back into work each morning without distractions. If you need space for multiple kids, consider dividing tables or rooms up with whiteboards, dividers or even a colorful box of file folders to give everyone some privacy.
Establish structure
A visual reminder to complete a task or attend a class can make students feel more organized – and parents feel more confident that kids are meeting learning expectations. You can use color-coded schedules to highlight tasks and responsibilities, including deadlines, project milestones, classes or even online sports practices. Whiteboards, easels with large pads of paper and digital calendars are other popular formats. But, even in this era of hyper-digital students, some students still do best with an old-school paper daily planner.
"Base your choice on what works for your student," says Ducharme. "The more you can empower your kids to keep ownership of their own schedules – just like they do in the physical school – the better it is for everyone."
Provide supplies
Certain things never go out of style: Sharks and gorillas are always cool. Koalas and pandas are always adorable. Who doesn't love animal patterns? But the style of these patterns changes every year, and this time around the amazing creatures get clever cartoon spins that celebrate their awesomeness – and look pretty good on a pencil case, too. Featuring fascinating wildlife on your backpack while learning about their ecosystems in science class is pretty great, when you think about it. When your kids embrace animal patterns, it shows they care about fellow creatures that share the planet. Picking clever patterns? Well, that just means they have great style.
Focus on printer capacity
With the possibility of multiple adults working from home, in addition to kids learning from home, your printer may be working harder than ever. Keep extra ink and paper on hand to avoid last-minute shortages. If your space and budget will allow, consider investing in an all-in-one printer with a scanner included to handle extra volume if your children are printing lots of homework and reports.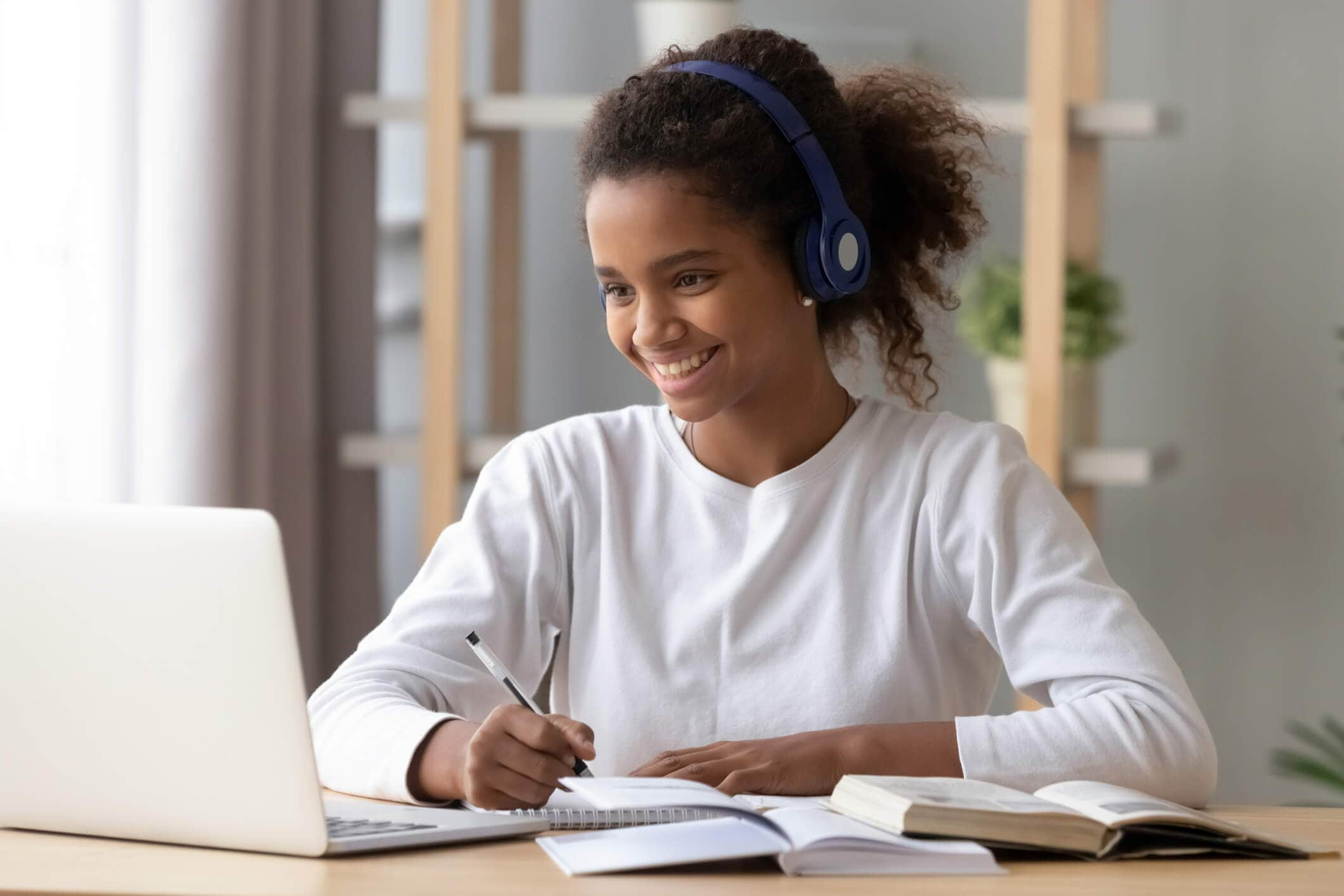 Consider ergonomics
Just like adults, kids stay focused and motivated when they're comfortable. For example, while laptops are great, a student working for an extended time at home may benefit from a keyboard, mouse or monitor. Likewise, the right chair can make a world of difference to a student's ability to stay on task. A chair that's the right size and supportive will reduce fatigue. If you have a designated work area, gaming chairs are worth considering – they come in fun colors and are designed with ergonomics in mind.
Listen up – and get the right headphones
Another factor with multiple people working and studying in the same space is noise. Zoom classes can't be competing with conference calls if you want to maintain household harmony. Noise-cancelling headphones help kids focus no matter what other family members are doing. Bluetooth earbuds or headphones are a great idea if your student likes to get up and move around during a long call or class.
Decorate with style and function
One casualty of being home 24/7 may be your floors. If you or your kids are now rolling around regularly in a desk chair, consider a chair mat to protect your floor. They come in a variety of styles and colors and can be another way your child can personalize their space with their own unique flair.

While many parents weren't anticipating the long-term need for a home study area investment, the upside is that kids will have a great workspace in which to do their homework when they return to the classroom full time. Creating the right workspace to support studying can also help build good study habits.

"Getting them prepared now will help them build good study habits they can take with them all the way to college," says Ducharme.