eReader Research Center
Finding your perfect fit is easy.
Access thousands of books, magazines and newspapers in seconds. Our helpful research tools make it easy to find the eReader that best fits your lifestyle. So you can spend less time searching and more time reading.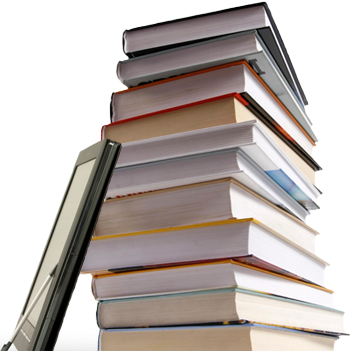 A quick overview
eReaders are light and portable, capable of storing thousands of books. In just seconds, you can buy new books, magazines and newspapers right from your device, or borrow and share titles with your friends. You can even adjust font size for easy reading. Additional features vary with each eReader, but they include document viewing and Internet browsing, even email and apps.
Learn about our selection of eReaders.
Choosing the right features
Connectivity: Wi-Fi vs. 3G
Wi-Fi is a great choice if you plan to use your eReader at home, the office, or if you frequent Wi-Fi hotspots. Most eReaders are Wi-Fi enabled, so all that's needed is a one-time network connection to begin reading.
3G devices allow for connectivity almost anywhere, as wireless coverage is provided the same way as a smartphone. Although priced slightly higher, there is no monthly payment or annual contract required. If you're a power user or frequent traveler, the 3G version might be your best choice. Plus, stay up-to-date on the latest headlines with daily automatic newspaper downloads.
Display: E Ink® vs. LCD
E Ink® eReaders provide the best screen for reading books. They have a long battery life and allow for easy reading with no glare while outside. It reads just like a paper book, so you'll need a reading light when in the dark.
LCD allows for full color animation, video viewing and a backlit display for reading in the dark. Although slightly heavier with a shorter battery life than traditional eInk, the LCD option is best if you want additional functionality, like surfing the Web and checking email. It's also a great choice for avid magazine readers and children's books where the color screen really enhances the experience.
Learn about Kindle Paperwhite WiFi and NOOK Simple Touch™.
Weight
Since eReaders are designed to be held up when in use, it's important to consider how much a device weighs before purchasing it. For long-form reading, a heavier eReader can be awkward to hold and cause fingers, wrists, and arms to become stressed or strained. It's also a good idea to give thought to the base or screen cover, since those will add to the overall weight as well.
Learn about Kindle Fire HD and Kindle Fire HDX
Is an eReader right for your needs?
Tablet vs. eReader
When comparing an eReader and a tablet, you should first consider how you intend to use your new device. There are great benefits to both. eReaders, mostly used for reading, are less expensive and lighter, and have a battery life that can last for months.
Tablets are used mostly for Web-based activities like email, video chat, games and extensive Web browsing. Slightly heavier, tablets offer a higher functionality, and their battery life is shorter than eReaders.
Learn about NOOK® and Google Nexus 7 Tablet
16GB
Compare eReaders
Use our online comparison tool
With so many choices, it can be hard deciding which eReader is right for you. That's why Staples® offers online tools that let you look at different models' features side by side. Compare variables like display, connectivity, battery life and more to find the device that best suits your needs.
Compare eReaders now