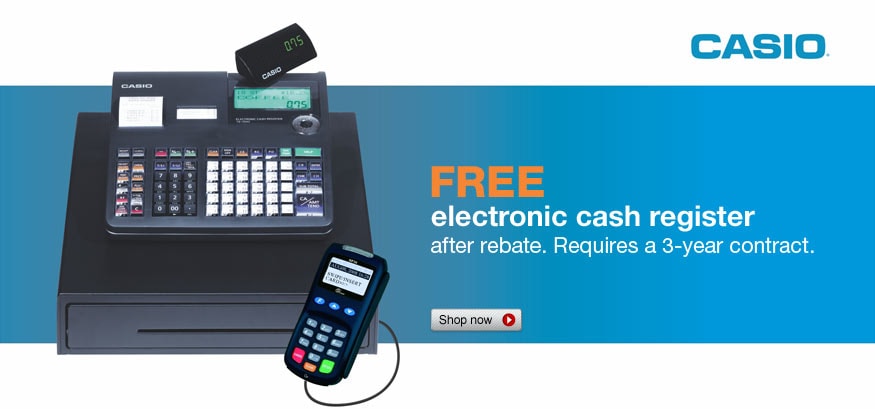 Casio® presents the first electronic cash register with integrated credit card processing.
This exclusive technology delivers the ultimate payment solution
and it's yours for free.*
Accept all major credit cards directly through your electronic cash register including Visa®, MasterCard®, Discover Network and American Express
Track your daily cash, check and credit card sales, as well as taxable and nontaxable sales
Customizable keypad layout with a simple, user friendly online wizard
Guaranteed replacement of cash register, if yours breaks or malfunctions, completely free of charge*
Dial-up or Ethernet (high-speed) connection
Large LCD and backlit customer display
Multiapplication support
Exceptional 24/7 support
Rugged hardware and stylish design
Heavy-duty cash drawer
Drop-and-load thermal printer
3 function keys
30 department keys
PCI PED compliant**
Step 1:

Purchase your cash register online at Staples.com®.

Step 2:

To receive your rebate, you must sign a 3-year merchant agreement through Harbortouch®, leading national provider of merchant services.

Step 3:

Your cash register will be shipped immediately and you will receive an email or phone call with instructions on how to get your 100% rebate.

If you have any questions, please call 888-823-2386.
*Free after rebate, plus tax where applicable. Rebate will be provided in the form of a credit to the processing account after the first full month of processing and requires a 3-year processing contract. Standard pricing of 1.69% +$0.25 per transaction, $9.95 monthly statement fee, $79.00 annual fee and $25.00 monthly minimum apply to every approved merchant account. Customer is responsible for $25.00 shipping cost.

**PCI PED compliance indicates that this equipment meets a set of strict regulatory security requirements set forth by the PCI Security Standards Council for merchants and merchant service providers regarding the storing, processing and transmission of cardholder data.