Choosing the right screen filter.
Three factors go into choosing the correct screen filter:
1. Your monitor type (CRT, LCD or notebook)
2. Your screen size
3. The type of screen filter you need
1. Determine Your Monitor Type
Screen filters are available for three types of monitors.
Remember:
CRT monitors resemble traditional TV sets.
LCD monitors are much thinner, thanks to newer technology.
---

CRT
---

LCD
---

Notebook
---
2. Measure Your Screen
Diagonally measure only the viewable area of your screen (see examples at right). Choose a filter that's equal to or slightly larger than the screen size.
---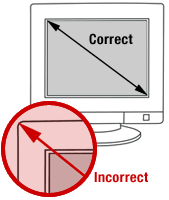 ---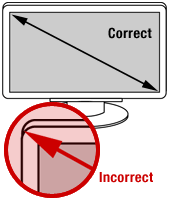 ---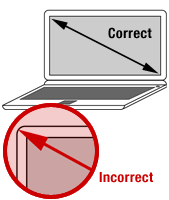 ---
3. Select Your Screen Filter Type
Screen filters can reduce screen glare, prevent eyestrain, provide privacy and protect the screen surface. Choose the filter that best fits your needs:
---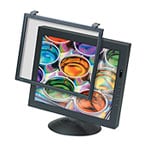 Glare filters
Reduce screen glare
Help prevent eyestrain
Provide protection from scratches and fingerprints
---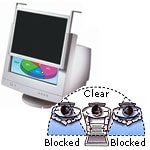 Privacy filters
Blur or block screen data so it's only viewable to the person directly in front of the monitor
---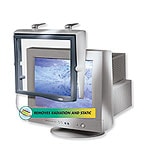 Protection (antistatic/
antiradiation) filters
Block most ELF/VLF E-Field radiation (when properly grounded)
Reduce static charge (when properly grounded)
Eliminate dust buildup