Navigate to Top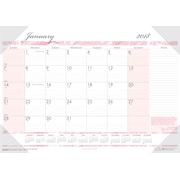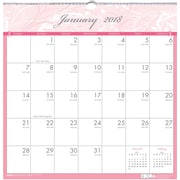 2018 House of Doolittle12 x 12 Wall Calendar Breast Cancer Awareness Pink (3671)
Item : 2680862
It also features Julian dates with days remaining as well. Past and future months are shown on each page for easy reference. This calendar has 1.5" x 1.75" blocks allocated for each day and includes a wire hanger to easily hang the calendar on the wall. Go green with House of Doolittle products, as we use 100% recycled paper containing 100% post-consumer waste with soy-based inks and 90% recycled wire. All of our products are manufactured in the USA and are FSC certified.
Heighten awareness of breast cancer and show your support with this pink and gray wall calendar.
This House of Doolittle Breast Cancer Awareness Monthly Wall Calendar features 12 months for easy planning, from January 2018 to December 2018.