Navigate to Top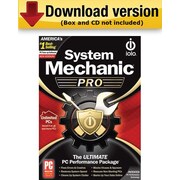 System Mechanic Professional for Windows (Unlimited Users) [Download]
Item : 416116
Revolutionary new Program Accelerator™ supercharges program performance. All new patent-pending calibration technology speeds up program performance by intelligently realigning programs with their dependent files.
ActiveCare® keeps PCs running like new automatically. Set-and-forget patent-pending ActiveCare® technology proactively optimize PCs using only idle system resources.
AcceleWrite™ real-time technology speeds PCs by optimizing critical file storage activity. It increases performance on solid state drives and traditional hard disk drives. As a result, writing and reading files is faster and hard drives last longer.