Navigate to Top
Make patient exams easier with tongue depressors, which are lightweight and easy to store. Most products are safe for internal and external use, so you can use them for everything from throat inspections to medicine mixing. Order depressors in bulk to stock your supply cabinet quickly.

Convenient Packaging
Many tongue depressors brands wrap each item in an individual package to prevent contamination from external debris. The lightweight wrapping tears open quickly to reduce wait time during an exam. When you're done, simply dispose of the paper and the depressor with the rest of your trash for a quick cleanup.

Easy Sterility Maintenance
Tongue depressors are available in both sterile and non-sterile models, giving you the freedom to choose the best option for your practice. Keep high-risk patients safe from dangerous germs with sterile depressors, or choose an affordable non-sterile option for general use. Maintain the sterile field during an exam or procedure by donning exam gloves to prevent the transmission of germs.

Sturdy
Each of these tongue depressors is crafted from lightweight wood that won't bend or break under pressure, so you can keep your patients safe. Whether you're keeping a tongue out of the way during an exam or using the depressors to mix a solution in a lab, the sturdy sticks hold their shape.

Ample Control
Designed with a long, thin shape, tongue depressors are easy to control with one hand, which leaves the other hand free to hold other instruments. Each depressor is wide enough to hold and maneuver comfortably, reducing the risk of hand cramps at crucial times. The rounded edges glide along a patient's skin without scraping or poking, and the smooth sides prevent splinters.



More
Less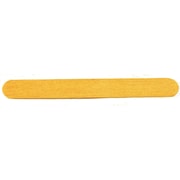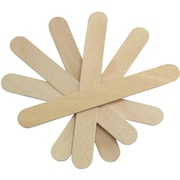 Medline Tongue Depressors
Item : SS1102044
Tongue Depressors Type
High quality Wood
Useful for spreading ointments and for stirring and mixing medications