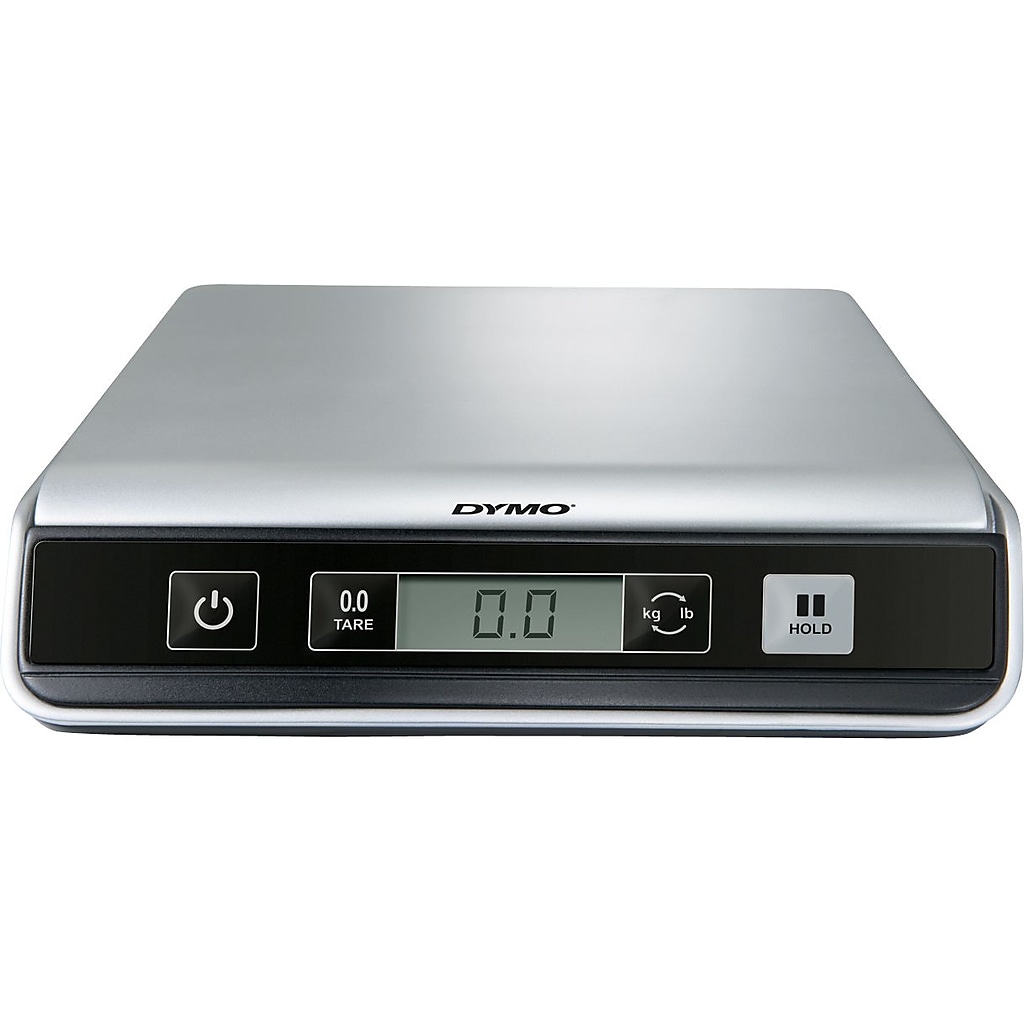 DYMO Digital Shipping Scale 25 Lbs. (1772059)
Item #: 897133
| Model #: 1772059
This item is out of stock for delivery
About this product
DYMO digital shipping scale allows you to accurately measure shipping weights.
Measure your outbound packaging using the DYMO digital shipping scale for precise shipping cost estimations. This sleek black and metallic scale has an LCD screen on the front so you can see the reading clearly. Take accurate records of shipping weights by pressing the hold button to display the current reading for 10 seconds. This digital scale is a great measurement and cost calculation tool for small businesses that regularly ship products, samples and promotional materials to their customers and subscribers.
Digital shipping scale provides accurate reading of shipping weight

Weighs items up to 25 pounds with an accuracy up to 0.1 ounces

Works with both an USB cable and three AAA batteries for ease of use

An LCD screen makes the weight reading clear

A black and metallic finish gives the scale a professional look

Includes a tare function for easily measuring the weight of a package's contents

Measures 1.8" x 8.3" x 9.2"

Weighs 25 pounds

Suitable for use with Windows and Macintosh operating system

Integrates with postage programs such as Endicia InstaRate and DYMO Stamps for convenient calculations

Shuts off automatically to save power

Comes with a manufacturer's one-year limited warranty


Battery Powered
This shipping scale powers on with three AAA batteries so you can moving it to your packing area and operate it without a computer. The scale also turns off automatically when idle to increase the battery life.

Accurate Reading
This scale measures the weight up to 0.1 ounces so you can ship smaller packages at the correct weight-based costs. The scale also switches between pounds and kilograms for easier cost estimations of overseas shipments.

Tare Function
Make sure you are sending the correct amount of product to a client by using this digital scale's tare function. This useful function allows you to weigh your container twice, first when empty and then when full. The tare function then displays the weight of the product inside the container making it easy for you to ensure that multiple containers have the same specified amount of product.