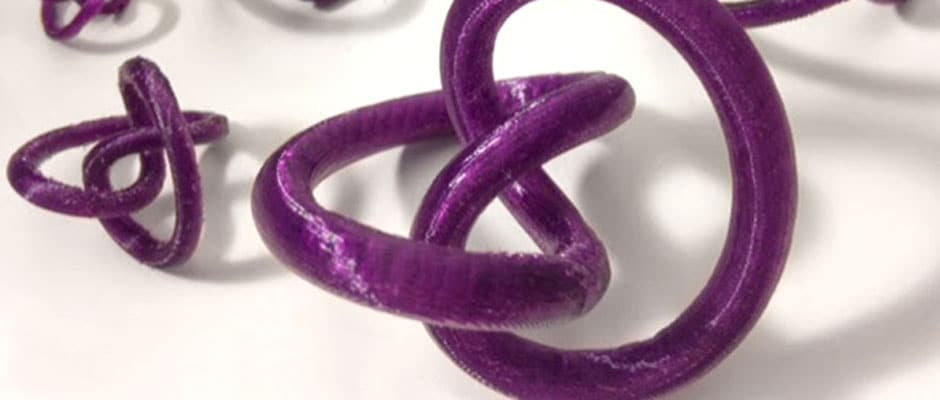 Mathgrrl Makes a 3D Print a Day
By Blake Eskin
If you're searching for a good New Year's resolution for 2014, have a look at Laura Taalman, who is 3D printing one thing a day for a year.
Taalman, a professor of mathematics at James Madison University, got a MakerBot Replicator 2 Desktop 3D Printer back in February. "I unexpectedly came into a bit of money for an award, and I decided I should spend it," she says. So she and her 8-year-old son boarded a train in Virginia and made a pilgrimage to the MakerBot Store in New York to pick up a 3D printer. Taalman now has one MakerBot Replicator 2 at school, where she teaches 3D printing, and a second at home.
Taalman found herself running James Madison's 3D printing lab even though, as a pure mathematician, she didn't have any engineering experience. So at the beginning of the school year, inspired by serial projects like They Might Be Giants' daily Dial-a-Song and Jonathan Coulton's Thing a Week, Taalman decided she would make a daily 3D print. "I thought that's a good way to commit, and not wake up two weeks later, saying, 'I should get that printer going again,'" she says.
Taalman began on August 27th, with a coin trap. For a while, she was reprinting or remixing others' designs, but she has now mastered several 3D modeling software programs. "Things really started clicking in October, around the H tree and the Peano curve, when I figured out how to import 2D things and make a 3D shape," she says.
Taalman, who also goes by the online handle mathgrrl, makes a lot objects that help people understand mathematical concepts better — like knots. "I understand them much better when I pick them up," Taalman says. Students traditionally see mathematical knots in two dimensions.
Taalman's entry in the MakerBot Academy Math Manipulative Challenge Math has turned into what she calls Poly-Snaps, building blocks that snap together to make cubes, soccer balls, and many other three-dimensional geometric shapes.
Other prints are more practical: Minecraft Creepers as favors for her son's birthday party, replacement numbers for the family's Settlers of Catan set, and a clip for her growing filament shelf.
"I've been at a party and it's 11 o'clock at night, and I'll say, 'I have to go. I have some things to print,'" Taalman said. "Or I'll say to my family, 'I'm sorry I have to make this print, so you'll have to figure out dinner yourselves.'"
Taalman swears she is even more passionate about 3D printing than she was about algebraic geometry, the subject of her dissertation. So come August, when her yearlong commitment ends, she doesn't plan to stop 3D printing. She will keep going, she says, "as long as there's new stuff to learn."
Related Articles