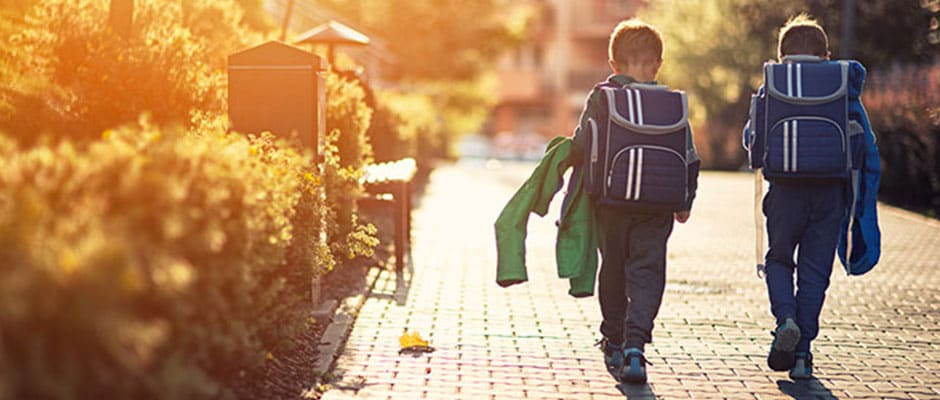 What's Your Child's Backpack Personality?
Whether your student is learning in the classroom, remotely or a hybrid of the two, they'll need a backpack to keep them organized and provide some normalcy. "Your child's school backpack is a style statement they put on every day, so it's important to choose one that excites them," says style consultant and mom Lee Heyward of Style with Lee in Charleston, SC.
Help your children choose backpacks that reflect their interests and personalities while also meeting their functional needs. Find your student's personality type below and check out what you need to know before you go backpack shopping.
For the Tastemaker: Some children have refined tastes that they want reflected in all their school supplies – especially their backpacks. If you're the parent of a Tastemaker, make sure to be up on the trends and patterns before you go shopping. This way, you'll show your student you know their style and help get an idea of the price range you want to stick to.
For the Techie: Kids who carry a range of devices need safe storage for their gear. Exterior pockets are crucial for the most used items and padded interior compartments or removable neoprene sleeves keep larger items safe. Stephen Fishburn, a frequent–flying tech exec and father of three in Maple Valley, WA, suggests picking up a few clear vinyl pouches to hold cords, cables, etc. And be sure to consider a backpack with a battery – they provide additional power on the go.
For the Sports Person: Student athletes who don't want to carry a separate duffel bag need roomier backpacks for school. "Consider a backpack with a large bottom compartment that can hold athletic shoes and clothes," suggests Kevin Strauss, a Leesburg, VA–based biomedical engineer and the president of FamilyEJournal.com. "If you're a swimmer, a waterproof compartment can be very helpful."
For the Rocker: Music lovers need backpacks for school that accommodate headphone cables and earbuds. Look for exterior pockets with holes big enough to handle jacks and cords. True rockers gravitate toward basic black or bold colors and edgy animal prints. You may want to steer clear of band-specific backpacks. "Just because your kids like the band One Direction now doesn't mean they'll like them in six months," says Allison Connor, a mother of two in Keller, TX.
For the Biker: Kids who bike, skate or ride a scooter to school need backpacks that securely hold their stuff and can stand up to the elements. Some packs include waterproof compartments or sewn-in rain covers. Padded hip belts and sternum straps will keep the pack from shifting, and bright colors and reflective strips will make your kid highly visible to drivers.
Don't Forget the Functional Features In addition to style, there are some functional features to consider when choosing your child's backpack.
"I want my kids' backpacks to be roomy enough to hold all their books, along with a jacket and a lunch box," Connor says. To make sure items will fit, load the supplies you're buying into the pack while you're still in the store and have your kids walk around.
"Simple is best," Fishburn says. "Too many pockets and zippers and doodads are just more places for kids to lose their homework and other stuff."
One feature that's critical, though, is an external water bottle holder. Says Connor: "Nothing like ruining the contents of your pack when your water bottle leaks all over." Make sure a bottle will actually fit when the pack's fully loaded.
Use this advice to help your children choose backpacks for school that reflect their interests and personalities while also meeting their functional needs.