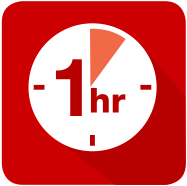 Need it today? No problem.
Buy online and pick up in store in 1 hour or less.
How to Shop
Find your product
Click the "Pick up today" button.
Select a store
Your closest store will appear. You can also choose another store.
Complete your order
You'll then receive a confirmation email, followed by a "Ready for Pickup" email.
How To Pick Up
"Ready for Pick up" email:
Check your inbox for your "Ready for Pick up" email (should be there within 1 hour). Wait until you receive your email before heading to the store.
Bring the email to your Staples store.
At the store:
Find a register with a "Online pick up" sign.
Present your "Ready for pick up" email and a valid ID.
If you identified an alternative person to pick up your item during checkout, please forward them the email and ask them to bring it to the store with a valid ID.
Is your item not available in store?
We can ship it there for you.
How to ship to store:
Add product to your cart.
Select "Free ship to store" at checkout and choose your store.
Head to your store when you receive an email confirming your order has arrived.
FAQs
How can I see if a local store has a particular product in stock?
For products carried in our stores, you can view the product availability by clicking on the Pick Up Today button on the product or search page. You will be able to view Your Store inventory or search for another store.
When will my order be ready?
Your order will be ready for pick up in 1 hour. You will receive a "Ready for Pickup" email when your order is available for store pickup. Your order cannot be picked up until we've sent you the "Ready for Pickup" email.
What should I do when I get to the store?
Head to the Staples® EasyTech℠ or Customer Service areas. Just look for the "Online pick up" sign or ask an associate to point you to the right area.
How long do I have to pick up my order?
Your order will be available at the store you choose for 5 days after you receive confirmation that your order is ready for pickup.
Can I have someone pick up my order for me?
Yes, you can assign an alternate person to pick up your order during the checkout process in the Store Pick Up Information Section. Simply provide their name and telephone number. You will also need to forward the "Ready for Pickup" email to this person. They will need to provide this email and a valid ID at the time of pickup.
Can I select the Buy Online and Pick Up In Store option while shopping Staples on my mobile phone?
Yes! Just download the Staples App and search for products with Pick up in store today radio dial.
Can I choose to Buy Online and Pick Up In Store for the items I need right away, while opting for shipping other items in my order?
Of course! After you place all your items in the shopping cart, use the radio dials at the item-level to determine pickup or shipping options at checkout. For example, you can ship one item to your home or business and pick up the others in store.
How do I receive texts when my buy online pick up in store order is ready for pick up?
Download the Staples app to your phone, enable notifications and you will receive a text message alert when your order is ready.