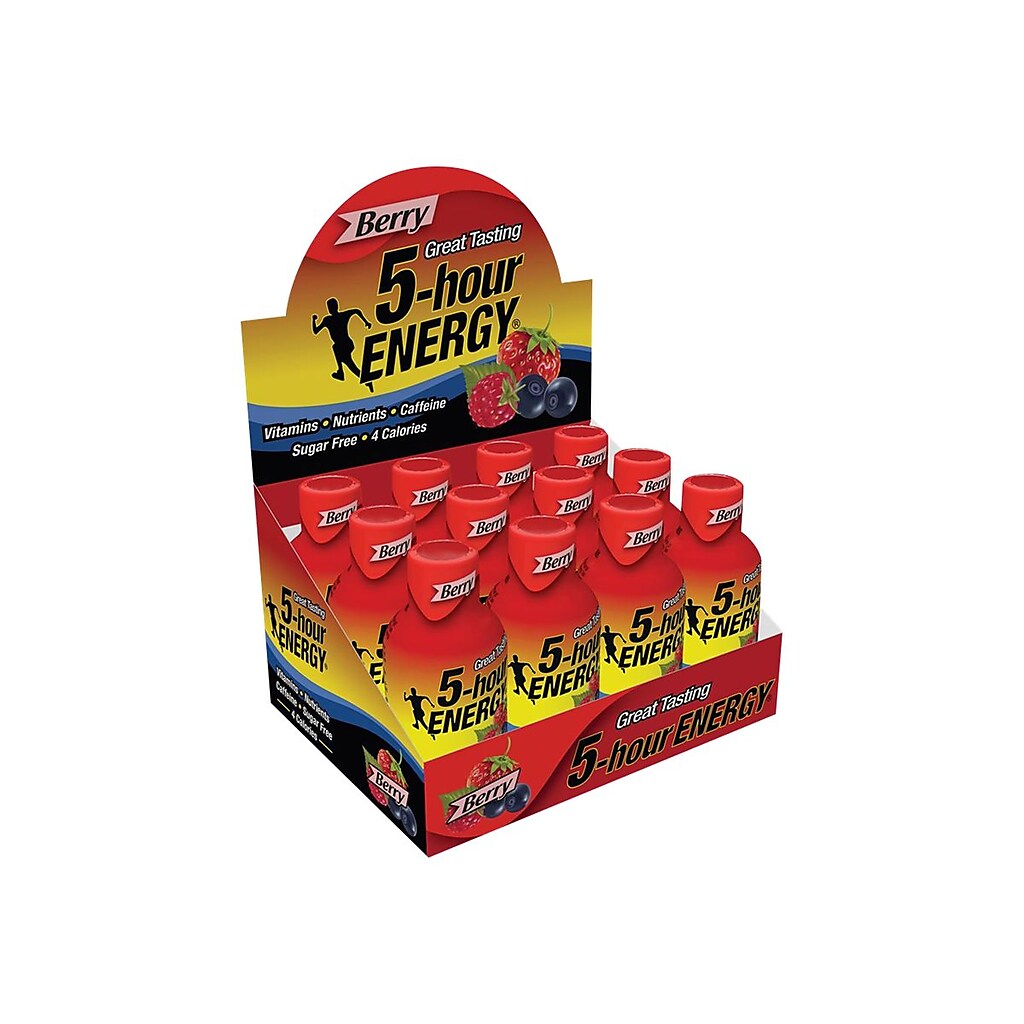 5-Hour Energy Berry Shots Drink, 1.93 fl. oz., 12/Box (LVS500181)
Item #: 897444
| Model #: LVS500181
This item is out of stock for delivery
About this product
Drink a 5-hour Energy berry shot when you're feeling sluggish and perk up your day.
Recharge within minutes with this regular strength berry shot. Loaded with vitamins, nutrients, and caffeine, this berry shot keeps you energized over a long day. This 5-hour Energy berry shot comes in a light 1.93-ounce bottle, making it a perfect on-the-go stamina boost.
Berry energy shot drink is a perfect way for working adults to stay bright and alert

Comes in capacity of 1.93 fl. oz.

Sold as 12 bottles per box

Container type: Bottle

Sugar-free

Vitamin-enhanced to replenish and revitalize the body

For extra busy, hard-working people who need an extra-big boost to help power them through their day
Berry-flavored 5-Hour Energy perks you up when you're feeling sluggish, but it doesn't do it by feeding you a lot of caffeine, sugar or herbal stimulants. Instead, they use the power of amino acids and B vitamins to recharge your batteries.
Give Yourself a Healthy Energy Booster
Your body uses amino acids to build muscle. Berry flavored 5-hour Energy contains amino acids as well as important B vitamins to help make sure you get plenty of these important nutrients to keep your energy level where you want it. The delicious energy drinks have no sugar and only as much caffeine as a cup of premium coffee you can buy from your local barista. The drinks also contain no herbal stimulants that might make you feel edgy.
Boost Energy Without Boosting Your Weight
Each 1.93 oz. bottle of 5-Hour Energy contains only four calories. You can drink all you need to stay alert and energized without worrying about putting on the pounds. It contains no sugar, so it won't break your low-carb diet.
Get a Lot of Energy From a Little Bottle
It's easy to carry these energy drinks with you. Each 1.93 oz. bottle slips easily into a coat pocket, briefcase or gym bag. Because one bottle helps you stay energized for five hours, you only need one or two bottles to stay alert and productive all day long.