Navigate to Top
Canon™ fax machines enable you to send documents directly over a phone line. A vital part of any busy office or business, these devices allow users to immediately share written documents, contracts, invoices, and proofs. Staples™ carries fax machines loaded with features to meet the needs of any environment. Choose from laser or inkjet technology to keep the office running smoothly and efficiently.

A Laser Cannon Fax Machine for Any Environment
Canon fax machines use either thermal, inkjet, or laser technology. Thermal models feature a cartridge and thermal paper. The machine burns the image into the paper using heat. These generally operate slower than inkjet and laser models. Inkjet ones use the same technology as inkjet printers. They print the text and image on paper and offer faster speeds making them ideal for moderate use. Laser models use toner or powdered ink to produce images and these offer the highest print quality. They also print faster and are suitable for heavy use and commercial settings.

Get a Multifunction Canon Fax Machine to Save Space
The features found on Canon fax machines differ depending on the exact model. A stand alone machine offers only basic functions such as sending and receiving faxes. Select ones may also offer a limited amount of copying. These generally connect to a phone line and contain a telephone handset and keypad. A multifunction fax machine incorporates more than just faxing. Many offer copying, scanning, and printing. These work well in office environments as they eliminate the need for multiple machines and save space.

Canon Fax Machine Speeds Enhance Productivity
Canon fax machines transmit faxes at different speeds for smooth and efficient operation. Along with the type of machine, the modem plays a large role in the sending speeds of a fax. The amount of time it takes to transmit a fax can determine the overall cost of a phone charge. For instance, models with a 33.6 kbps modem can support speeds up to 2.5 seconds per page while a 9.6 kbps modem has a rate of around 15 seconds per page.

How Much Memory Does a Canon Fax Machine Have?
The amount of memory a fax machine has depends on the model. The memory determines how many numbers the machine can hold, how many documents it can queue, and a number of messages it can hold with a depleted paper supply. A model with a 512KB memory can hold up to 20 to 25 pages. One with a 16GB memory holds around 400 pages at one time.

What Size Paper Can a Canon Fax Machine Handle?
In general, a fax machine accommodates standard 8.5 x 11 inch paper. In offices and businesses that send larger documents or legal size papers, look for one that supports 11 x 17 inch paper. Some models feature paper drawers for the two different sizes to eliminate the need to switch out the paper.

Do Canon Fax Machines Print in Color?
Some Canon fax machines print in only black and white. However, some models can print in color. These are useful for faxing artwork, photographs, advertisements, and brochures. For sending basic documents or just text, a black and white model is sufficient.
More
Less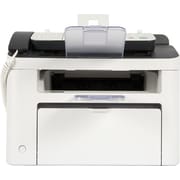 Canon FAXPHONE 5258B001AA Laser Fax Machine (L100)
Item : 683059
Fax machine with print and copy functionality and a 33.6 kbps fax modem for quick transmission of documents
64MB memory stores up to 512 pages
Outputs in black ink up to 19 pages per minute single sided and 16 pages per minute double sided at up to 600 x 400 dpi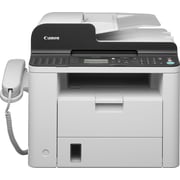 Canon 6356B002AA Faxphone Thermal and Laser Fax Machine
Item : 940599
Canon FAXPHONE thermal and laser fax machine with 33.6 Kbps SuperG3 fax modem for quick faxes
128MB fax memory queues up to 512 pages for extended jobs
Prints single-sided documents at up to 26 ppm and double-sided documents at 16 ppm