Navigate to Top
Cuties diapers combine function and comfort for babies to preschoolers. They are a hygienic way to keep infants, toddlers and their environment clean, comfortable and dry throughout the day and night.

Cuties Diapers for a Nursing Room or Changing Table
Babies and moms appreciate a clean, quiet place for nursing. Many modern offices have a dedicated space for moms and babies to do just that, add to their comfort by keeping the room well stocked with necessities such as a variety of sizes for those emergency moments or forgotten bags. The extra touch of providing changing supplies shows you care about your clients and customers and the comfort of their children. Cuties conveniently place the size of the diaper in large print on the back of each one, making it easy to find the right fit at a moment when time matters.

Economical Diapers with Premium Performance
Cottony soft cloth-like material both inside and out provide a cozy feel to the diaper, in addition, they feature a thin design with breathable zones. Stretchy side and waist panels with an ultra absorbent core provide above average absorption and leak protection. Additionally, the liner is hypoallergenic with aloe, chamomile and vitamin E to help protect baby's sensitive skin. The extra grippy, re-adjustable tabs give a customizable fit and allow you to change the grip tab position on a squirmy baby.

What Sizes do Cuties Diapers Come In?
The diapers run from a Size 1 to a Size 6. That is a range in weight from 8 pounds to 37+ pounds. The sizing options are comparable to other diaper brands. The training pants come sized from 2T-3T and 4T-5T, covering a range of weight from up to 34 pounds to over 40 pounds. This selection of sizes covers all stages of your baby's growth. If a diaper is too large or too small, t will not function properly by containing messes and absorbing leaks. A too small diaper will not be comfortable leaving red marks on the baby's legs and making them fussy. Offering multiple sizes means more functionality and comfort for babies and their parents.

Are the Diapers Gender Neutral?
Yes, they are gender-neutral and decorated with an animal alphabet graphic, a large letter with an animal picture. The training pants offer both boy and girl options with targeted adsorption where it is needed most.

How do the Cuties Training Pants Work?
The training pants have stretchable sides with re-fastenable tabs allowing for a custom fit, leak protection, and easy open for bathroom trips and changing. They also feature characters that fade when the pants get wet.

Why Provide Diapers for Customers and Clients?
Infants may need up to a dozen changes a day. Inadequate diaper changing increases the risk of health problems and discomfort, even pain for the child leading to crying and distraction for customers and employees. Calm, comfortable babies lead to a quiet meeting or a better shopping experience.

Where are Cuties Diapers Made?
They are proudly made in the USA.
More
Less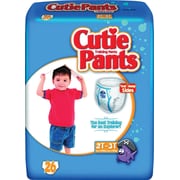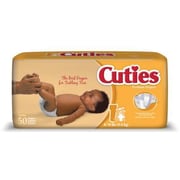 Cuties™ Premium Baby Diapers
Item : SS2098632
Available in sizes 1-6
Animal alphabet graphics
Hypoallergenic liner with aloe, chamomile and vitamin e