Navigate to Top
Purell hand sanitizer is a common sight in most public areas. While it is still important to wash your hands often, applying a hand sanitizer throughout the day can help reduce the spread of germs and bacteria. Germs often linger on phones, door handles or on your hands. There are a few important things to consider when you're deciding which hand sanitizer to opt for. Purell has earned a solid reputation as a trusted manufacturer of quality products, with a wide selection of to choose from.

New Purell Hand Sanitizers Kill Germs

Purell hand sanitizer kills around 99.99 percent of all known germs. A single application will kill twice as many germs as some other competing brands. The secret to this is ethyl alcohol, which is the main active ingredient. Purell hand products also moisturize the skin with clinically tested skin-conditioning agents which leave hands feeling soft and fresh, even after repetitive use.

Purell offers a wide selection of scented hand soaps. They are enriched with essential oils and have enticing names such as Apricot Blossom, Ocean Kiss and Watermelon Splash. These refreshing aromas make the products more appealing and can lead to repeated use and fewer germs. For people with sensitive skin, there are fragrance-free and hypoallergenic options.

Customers can also choose between different hand sanitizer formulas. Foam stays on hands to prevent dripping on clothes or equipment. The gel option quickly evaporates after application, leaving hands dry with no need for a towel. Disinfectant wipes are milder than gel and are convenient for cleaning hands, faces or surfaces.

Purell Hand Sanitizers Keep Your Workplace Clean
In hospitals, hand sanitizers are an absolute necessity to prevent the spread of infection. In offices, employees share a lot of equipment, such as fax machines, phones, and files. This will inevitably spread germs around the workplace. Hand sanitizers on desks and in common areas can help to reduce illnesses and maintain a productive workplace. For shop owners, placing hand sanitizers beside the cash register is a step towards keeping employees and customers safer from germs. Schools are another high-risk environment for germs and bacteria, and dispensers of hand sanitizers in corridors, bathrooms, and classrooms benefit children and staff alike.

Purell Hand Sanitizers: Sized for Convenience
Purell hand sanitizers come in various shapes and sizes. Economy-sized 2-liter pump bottles contain about 1500 applications and are convenient for placement in high-use areas such as bathrooms and cafeterias. A size smaller, 12-ounce pump bottle is ideal for the office desk. Pocket-sized 4-ounce flip cap bottles fit in a handbag or briefcase for easy access after meals, when handling money or contacting questionable surfaces. Many bottles feature fun illustrations or whimsical shapes to entice kids to clean their hands.

Purell also offers several dispenser options for businesses and workplaces. Pump dispensers come in various sizes and are wall-mounted. There are also hands-free wall dispensers, which feature motion-activated sensors that automatically dispense gel or foam. Floor stand stations can accommodate multiple users with two dispensers on a single unit. Browse Staple's selection of Purell hand sanitizers, dispensers, and other cleaning supplies for products that suit your needs.
More
Less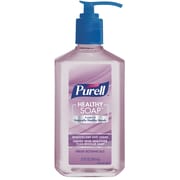 Purell® Healthy Hand Soap, 12 oz.
Item : SS5905459
Available in Fresh Botanicals, Soothing Cucumber and Clean & Fresh scents, 12 oz. pump bottles
Removes dirt and germs
Leaves skin healthier than regular soap