Navigate to Top
Reduce noise and protect hardwood flooring by installing durable, self-adhesive felt chair sliders on the bottoms of furniture legs. Placed on the base of chairs and other furniture, these small and subtle sliders are welcome additions to any home, office, classroom, or restaurant. Staples® carries a selection of these products, along with other furniture accessories.

Felt Chair Sliders Have Many Benefits
Avoid that ear-piercing noise when people push seats from tables and add furniture sliders to the chairs. In addition to making furniture moving quieter, these felt pad furniture accessories also allow for easier sliding and repositioning of chairs and tables by creating a smooth gliding surface. This lets people complete home and office redecoration with less effort.

Protect hardwood floors from unsightly scratches and scuff marks by attaching the sliders to the bottoms of chairs and any other furniture, such as sofas and tables. Not only do felt pads protect flooring, but their use extends the life of furniture with an extra layer, preventing further knocks, wear, and tear. The felt pieces also provide a self-leveling system. If chairs or tables have uneven legs, the gliders balance the difference, which means no more wobbling.

Chair Sliders Are Adaptable and Flexible
Brands such as MintCraft®, Mighty Mighty Movers®, and Alumni offer assorted sizes and shapes and in subtle colors to suit every need. Users can even cut felt chair pads to more suitable sizes to fit the shapes of furniture legs. Durable, heavy-duty, and long-lasting, the slides are ideal for use in spaces outfitted with a lot of seating, such as offices, restaurants, and bars. People can also retrofit snap-on felt glides to swivel-legged seats, chair styles often used in schools.

Chair Sliders Are Not Just for Furniture
Furniture sliders attach to any surface in the home or workspace. Connect them to door frames or inside cupboards and drawers to prevent banging. Felt gliders protect walls from the repetitive slamming of door handles. People can use them to safeguard walls from scratches and dents caused by picture frames. Add smaller pads to the bottoms of keyboards for easy movement across desktops and to ensure the desk surface doesn't suffer scratches from the keyboard.

How Long Do Chair Sliders Last?
While chair gliders are high-quality and heavy-duty, they eventually wear down and need replacing. This happens faster on high-traffic furniture. To maximize the life of the felt pads, make sure surfaces are clean before installing them.

What Surfaces Do Chair Sliders Work Best On?
Chair gliders work best on hardwood flooring and smooth surfaces. The felt can snag on tiles or uneven flooring, and carpet creates added friction, which can remove the chair pads from the furniture. Attach the sliders to many surfaces, including wood, metal, laminate, and ceramic.

Are Chair Sliders Noticeable?
The slides are available in various colors including beige and white, and therefore blend well with home and office furniture. Felt pads are only 4 millimeters thick, so they do not noticeably impact the height of chairs and other furniture pieces.
More
Less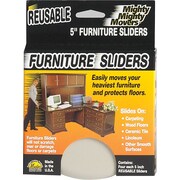 Mighty Mite Furniture Sliders, 5"
Item : SS1065581
Easily moves heavy furniture and protects floors.
Ideal for moving large desks, safes, display cases, bookcases and more.
Padded liner protects bottom of object being moved.