Navigate to Top
Ready-to-use zinc paste bandages provide light compression and a moisture-rich environment that comforts sores, burns, edemas, and venous leg ulcers.

Easy to Apply
Individually packed bandage options comes wrapped around an inner plastic core. This rigid inner core makes the bandage easy to unroll and prevents the roll from collapsing while applying the bandage. The knitted design of this bandage fabric adds width and lengthwise flexibility that promotes a form-fitting application. When applied correctly to a wound, the boot remains comfortable for up to one week, depending on drainage.

Comforting Zinc Oxide
Boot bandage options are impregnated with a creamy mixture of zinc oxide to relieve irritated skin and to maintain a moist environment surrounding the wound. The antiseptic property of zinc oxide hinders germ growth, which promotes healing on open sores, wounds, ulcers, and burns. Zinc paste bandages are latex free, so they are suitable for people with latex allergies or sensitivities. Zinc boot bandages are available with or without calamine. Bandages with calamine provide additional comfort due to the anti-itch properties found in calamine.

Long-Lasting
When applied correctly, boot bandages can last up to seven days depending on the amount and frequency of wound drainage. The zinc oxide paste on the application side of the bandage makes the dressing moist, which creates a barrier between the skin and the outer dressing. The zinc oxide paste also adds moisture to the outer part of the bandage, which helps the dressing to maintain the structural integrity it needs to supply compression. After the application of the bandage around the wound, the outside bandage slowly dries to create a semi-rigid, permanent structure that provides healing support.






More
Less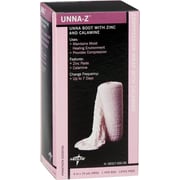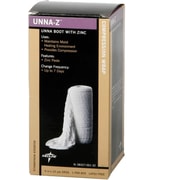 Medline Zinc Unna Boot Bandages
Item : SS1100224
Without Calamine.
Latex-free.
Maintains a moist healing environment and provides light compression for venous leg ulcers.