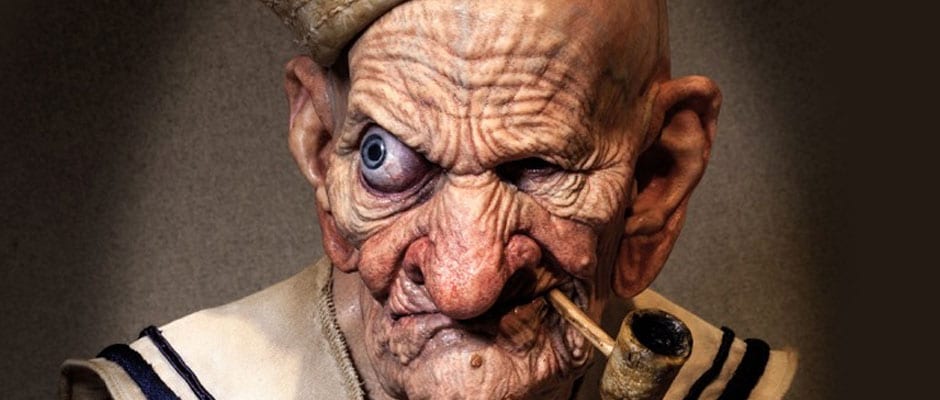 Rick Baker 3D Prints, Paints Popeye
By Blake Eskin
Rick Baker is the Hollywood makeup artist behind dozens of films, from "American Werewolf in London" to "Norbit." He has seven Oscars for Best Makeup (a record), two adult daughters (who turn into monsters when they come visit him), and, after attending a charity auction last fall, a MakerBot Replicator 2 Desktop 3D Printer.
"I bought the MakerBot Replicator 2 for more than what it cost retail," said Baker, who expected this purchase to do more for Big Brothers Big Sisters than for himself. He saw it as "something to play with," and thought, "I can probably print up custom palettes to put makeup in." Baker is adept at 3D modeling software (his handle on the ZBrush forums is monstermaker). Still, it took him a couple of weeks to get a feel for 3D printing. "Most of the problems were my mistakes," he said.
Baker persevered. "I do makeup effects, but I like learning new things," he says. Before long, he started making figures that met his high standards. The piece he's spent the most time on is a 3D print of his wizened Popeye; his digital rendering of the sailor man has become popular icon since he designed it seven years ago in ZBrush. "People have gotten tattoos of it," he said.
The 3D printed Popeye has a head about four inches high, and Baker used multiple layers of paint. "That final Popeye print has 20 different glazes on it." Popeye's hat is a separate print; Baker melted real thread into the MakerBot Warm Gray PLA Filament to create the stitching. (See the whole Popeye statue, spinach can and all.)
Though the term did not exist when he was born in 1950, Baker is a maker. His interest in makeup began by watching the Shock Theater package of horror films on TV. "Famous Monsters of Filmland magazine had articles on people who made this stuff. They became my idols."
Baker made his first nose by dyeing his mother's pie crust. Now he has a star on the Hollywood Walk of Fame. So perhaps some 10-year old who is painting 3D printed models from the MakerBot Digital Store will find similar inspiration in Rick Baker's Popeye statuette.
Related Articles