Automated Business Solutions Can Save Your Company Money
by Margot Carmichael Lester, Staples® Contributing Writer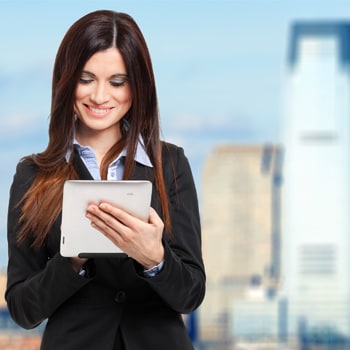 Small business owners are always looking for ways to lower expenses, increase productivity and safeguard their assets. Automated business products are one solution, making it possible to program certain key activities to occur automatically, and removing one set of worries from small business owners.
"Automation makes redundant-but-important tasks much simpler," says Summer Bicknell, founder of Locopops, a frozen treat retailer and wholesaler in Durham, NC. "And anything that gets an automatic check mark helps clear the daily task list in my head and free up my brain space for other items."
Mike Harris, CEO of Zonoff, the software company that partnered with Staples to create the multi-platform app used with Staples Connect, explains the benefits: "Small business owners can automate routine tasks like turning lights on or off at appropriate times, or raising or lowering window blinds to save energy costs. They can also protect their valuable assets by using automated locks and motion detectors."
Automated Business Solution #1: Entry and Exit
Don Waskiewicz, owner of Deep Blue Insights, a data mining and data-enabled marketing solutions provider in Mason, MI, controls and monitors access to his office via a digital door lock.
"I like the comfort of knowing what is going on in my space when I'm not there," says Waskiewicz, who frequently works from out of town. "I like the simplicity and control of not needing to hand out physical keys to the space and knowing who unlocks the space and when — including my office cleaning staff, which has access after hours." And with PIN access, no one is ever locked out of the office, reducing down time and wasted trips to unlock doors.
Automated Business Solution #2: Energy Efficiency
Automated lighting systems can be programmed to turn lights on and off at prescribed times or when triggered by specific events, like entering an office or restroom. More efficient lighting reduces overall energy spend and extends the life of bulbs. Industry experts estimate that energy automation solutions in commercial buildings produce savings of 20 percent to 40 percent.
"I employ a lot of young people who have yet to develop sensitivities to waste and can be forgetful," says Bicknell. "Automation would help me meet my own metrics of responsible energy use without having to sound like my father: 'Money doesn't grow on trees — turn off these lights!'"
You can gain additional energy efficiency from automating heating, air conditioning and ventilation. The system can adjust thermostats to more comfortable levels just prior to opening and return them to a more efficient level at closing — all without the need to rely on employees. Water heaters also can be turned down during off hours for even more savings.
Automated Business Solution #3: Security
Automation offers many ways to keep your business and employees safe, besides controlling access.
Motion sensors can turn lights on when people approach your property, which can be effective in chasing off criminals and alerting employees to potential dangers. "Motion sensors and video monitoring are easily integrated into business automation systems, making it easier and more affordable to protect your business and employees," says Michael Fraser, CEO of VDI Space, a business security company with offices in Seattle, WA, and Incline Village, NV.
He suggests pattern-based lighting automation, which turns lights on along the paths people take when walking into your office or building. "You could do rotating paths for multiple entry points to emulate the human effect," he says. He also advocates having radios and displays turn on and off for a similar effect.
The key is identifying critical tasks and security risks and then building an integrated system to address them. "Integration of various controls from HVAC to lighting to locks and cameras can provide functionality you never realized you needed or would appreciate," says Waskiewicz.
Your New Business Partner: Staples Connect
Many small business owners feel automated business systems are out of reach. "Business-wide systems are often built with large-scale enterprises in mind," says Bucknell. "Small business owners usually feel like we must over-buy to get the pieces of a solution which are valuable to us. In today's market, unbundling is attractive — scaling solutions to meet specific needs is a real benefit."
That's the idea behind Staples Connect, which allows small business owners to create customized business process automation systems that meet their specific needs at an affordable price.
Users can build the system device-by-device to meet specific needs for lighting, security and energy efficiency. The Universal Hub, powered by Linksys, joins together automated business products from trusted brands like Lutron, Philips, GE, Honeywell, Yale and First Alert. Then, key activities are controlled via the multi-platform app. The Hub is $99 and there is no subscription fee.
"We know a lot of our customers manage homes and businesses," says Peter Gerstberger, Senior Merchant, New Business Development, for Staples. "Staples Connect is all about integrating trusted brands through one app and one Hub to give you day-to-day peace of mind over the most important buildings in your life."
Shop Staples automation products: