Home Automation Systems Provide Easy, Affordable Solutions
by Margot Carmichael Lester, Staples® Contributing Writer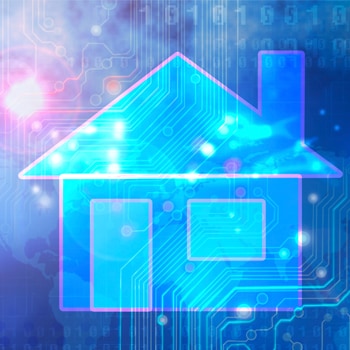 For folks like Barry Campbell, home automation systems are a dream come true. "I've daydreamed about hooking everything in my house up to a personal computer and controlling it from there for 20 years now," says the Raleigh, NC, resident. "I'm most interested in a smart system that could help reduce power usage, and I'm intrigued by the thought of getting lights and appliances — and possibly even a door lock — under remote monitoring and control. But until fairly recently, I've been disappointed with what was actually possible on a realistic budget."
New solutions, like Staples Connect, let homeowners create customized home automation systems at an affordable price. You can use Staples Connect to build a system device-by-device to meet your specific requirements for lighting, energy efficiency, climate control and home security. You link all your devices via the universal Hub, powered by Linksys, and then can control all your activities via a multi-platform app, developed by Zonoff. The system allows you to use home automation products from your favorite trusted brands like Lutron, Philips, GE, Honeywell, Yale and First Alert, among others.
Home Lighting Automation
Automated lighting is convenient, comforting and energy efficient. "I often forget to turn off various lights in the house when I leave for work and having them automated helps me cut down on power waste," says John Wohlers, a homeowner in Somonauk, IL. "I have a pretty eclectic schedule and I never know when I'm going to be home. Having the ability to turn lights on remotely ensures I have no problems when I arrive home."
Other home lighting automation options include setting triggers for lights to turn on:
When motion is detected
When a door is opened or closed
When a room is entered or exited
When the doorbell rings
Home automation products also allow you to program a series of activities. For instance, a "good night" program can automatically turn off or on specific lights, close the blinds, lock exterior doors, and lower the thermostat. And you can do it all without taking a step.
Home Security Automation
Many home automation solutions can integrate with home security elements, like door and window sensors, alarm systems and video cameras. So you can create a safer home environment even if you don't purchase a full-on home security automation solution.
Key-coded locks allow you to create codes for yourself, kids and housekeepers so you never have to worry about keys floating around, and you always know who's in the house. Temporary key codes are great for service personnel, providing limited-time access and keeping a record of entry and exit times. Remote access systems are also helpful. Kids forget their keys? You can let them in remotely and automatically lock the door behind them. Unsure if you remembered to lock the back door? A quick check of the system from your mobile device saves you from making a return trip home or worrying all day.
Remote control lighting also improves home security. "Criminals are looking for dark, quiet homes," says home security expert Robert Siciliano. "Inside and outside lighting on a timer makes the bad guys think twice about choosing your home as their next target."
In addition to turning lights off or on from a mobile device, home security automation enables you to create event triggers that simulate you being home when you're not and that make returning home welcoming and safer, like:
Turning on and off TVs and radios to create the illusion someone is home
Programming lights to go off and on in a pattern that mimics how you typically move through the house
Raising and lowering the blinds during the daytime
Automating lights to turn on when triggered by certain events detected by motion or door/window sensors, such as opening the front door between the hours of 5 p.m. and 7 p.m. so you never have to enter a dark house
Home Energy Efficiency
Another benefit of home automation systems is energy efficiency. Industry estimates show automated climate control can reduce energy costs by 15 to 30 percent.
"During the summer, I'm away for most weekends," says Wohlers. "My home is older and doesn't offer central air conditioning; instead I have room-specific A/C units." Running those units nonstop is costly, so Wohlers automated them. "I can use my phone to turn on the A/C when I get ready to head home and when I arrive, the room is cooled down to a comfortable sleeping temperature." It's also easy to automate heating and cooling to adjust up or down at specific times of the day, further increasing efficiency.
Another popular home automation activity is running appliances at off-peak times. A special outlet adapter allows you to integrate existing appliances into your home automation system and program them. For instance, you can schedule the clothes dryer to start in the middle of the night to take advantage of lower power rates. You'll be saving money while getting your shut-eye.
Choosing Your Home Automation System — You Don't Have to Do It All at Once
Many homeowners hesitate to purchase full home automation solutions and home security systems because they're unsure how to use them and are put off by the cost.
"People think home automation is only for the rich and famous," Siciliano laughs. "But that's not true. Start small. You can always add more bells and whistles down the road."
That's why Staples developed Staples Connect. "Most people don't want to spend $500 to $1000 on day one — they want to slowly grow their home automation system over time," says Peter Gerstberger, Senior Merchant, New Business Development at Staples. "For $99, you can get our Hub and start building out your system." The in-store demo and online emulator let you explore different ways of using Staples Connect to meet your specific needs. When you're ready for more, you can have a free in-home consultation with an EasyTech expert.
"The benefits of home automation and remote access are virtually unlimited related to saving time and money, and increasing peace of mind," says Zonoff CEO Mike Harris. "Ideally, homeowners should start off with small solutions that solve specific problems for them and their families, and then they can simply add devices to make their system more robust and even more useful."
Shop Staples automation products: