With Timed & Triggered Activities, Automation Makes Life Easy
by Margot Carmichael Lester, Staples® Contributing Writer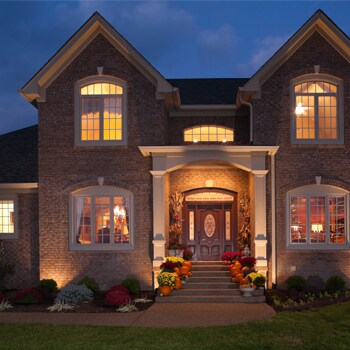 You perform a number of activities every day at home and at the office, and managing them sure adds up. But automating your lighting systems, home security and more allows you to establish parameters for your activities so you can set them and forget them. You'll save time, improve efficiency and gain peace of mind. You want control, and with home or small business automation, you can have it.
Timed Activities
Timed activities happen on a regular schedule, like 5 a.m. or "sunset." Rose Eldred of Seattle sets her lighting system to come on at a particular time each day. "My house is lit up all pretty when I walk in the door at night instead of being dark and gloomy," she says. "It feels a lot cozier."
John Wohlers of Somonauk, IL, uses remote control lighting to turn lights off. "My basement lights are set to always turn off at midnight, just in case I forget to do it myself."
Other timed activities could include:
Running appliances, like the washer, dryer or dishwasher, during off-peak hours
Deploying sprinklers or soakers for the garden or lawn
Turning off the TV or computers at the kids' bedtime, whether or not you're home
Adjusting the thermostat at a particular time in your business or home
Raising or lowering the blinds when the business opens/closes or at wake-up and bedtime
Setting lights, TVs and radios to turn off and on at random times when you're out of town or the office
Triggered Activities
Some activities, like those involving video security systems and home security cameras, are better set to triggers. "On my property, any time certain cameras detect motion, they begin to record," explains Boston-based home security expert Robert Siciliano.
Peter Gerstberger, Senior Merchant, New Business Development at Staples, relies on triggers to keep his toddler safe. "She's mobile, so I've set a trigger that if her door opens after 8 p.m., the hallway lights go on," he says. "Integrating door and window sensors with the lighting system helps me solve this everyday problem." Another innovative use? Gerstberger has heard of a gentleman who has automated a heat lamp and thermostat in his chicken coop. "When it dips below 40 degrees, the heat lamp kicks on to keep the chickens from freezing."
Other triggered activities include:
Turning lights on/off when a door is unlocked and locked
Turning lights on/off when someone enters or leaves a room
Shutting down major appliances when not in use for a number of minutes or hours
Getting a text and still photograph when a door entry code is keyed in
Turning exterior lights on when the doorbell rings
A mix of timed and triggered activities makes the most sense in terms of safety and convenience. "Automation makes it easy to create custom solutions to the scenarios we encounter every day," Gerstberger says. "We lead a connected life, and now we can use our mobile devices to automate our entire day."
Staples Connect Makes Automation Easy
Staples Connect lets homeowners and small business owners control key activities like lighting, climate control and security, via a multi-platform app and Universal Hub. Unlike large system-based solutions, Staples Connect allows users to add only the devices they want. Customers can select products by Lutron, Philips, GE, Honeywell, Yale and First Alert, among others.
The Staples Connect Hub, powered by Linksys, is available online and in a limited number of Staples stores for $99. The platform, developed by Zonoff, features a free app that enables users to control their homes and offices from a smartphone, tablet or laptop. There is no subscription fee.
"Staples Connect moves home and office automation from the world of James Bond-like high-end applications to the real-world of home and business owners' pockets," says Gerstberger, Senior Merchant, New Business Development at Staples. "And at the $99 price point, you're not going to feel over-invested in new technology."
Shop Staples automation products: