Now you can look forward to:
Web pages that open up to 50% faster
Easier shopping, searching, tracking, and reordering
Printer-friendly pages that'll save you ink
So, why are you here and not on our new site? You're using an old Internet browser. To fully enjoy the improvements on Staples.com® (not to mention other Web sites), we recommend upgrading to a newer one.
Luckily, you can easily download an updated browser* - safely and for free. A new Internet browser can:
Block more pop-up ads
Offer higher levels of security and privacy protection
Over 90% of our customers use a standards-compliant browser. To download one of the recommended browsers for free, just click on one of the links below:
First, make sure your computer meets one of the following operating system (OS) requirements: Windows® 98 and above for PCs, Mac OSX 10.1x and above for Mac.)
Enjoy your new browser, and enjoy the new Staples.com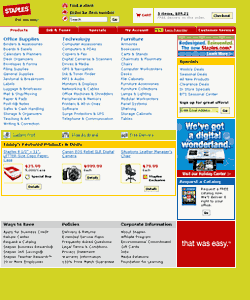 If you do not wish to upgrade your browser at this time, continue to Staples.com.
To learn more about the site, visit our Online Guide.
*Staples is not responsible for computer errors or malfunctions that may result from downloading a new browser.