Navigate to Top
Amenity kits make each hospital room feel more like home, so patients can focus on their health and recovery. Many kits are latex-free to avoid allergic reactions, making them ideal for a wide range of patients. Choose the best kit for your facility from trusted brands such as Medline.

Varied Products
A standard amenity kit comes with a variety of products, each selected with an eye toward patient hygiene and comfort. Help your patients take care of themselves during overnight hospital stays with kits that include shampoo, conditioner, soap, and body lotion. For a special touch, choose premium kits to treat patients to extras such as combs, toothbrushes and toothpaste.

Convenient Packaging
Packaged in compact parcels, each amenity kit is easy to set up in a room or bathroom. Many kits come wrapped in plastic, so you can rest assured that each item gets to patients in perfect condition. For maximum convenience, choose kits that include a small basket or box for easy containment.

Compact Size
Each item in a standard amenity kit comes in a special travel size that is perfect for hospital stays of two or three nights. The small containers provide the perfect supply, allowing patients to stay comfortable while reducing the amount of wasted product at the end of a visit. When you want to keep long-term patients comfortable, opt for full-size bottles of shampoo and conditioner.

Ample Supply
Each type of amenity kit is packaged in a multi-pack, so you can keep extras on hand. Select packs of 24 or more to stock your supply cabinet all at once or in small quantities as the need arises. Each order comes in a large box for easy storage.



More
Less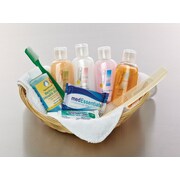 Medline Premium Amenity Kits, 24/Pack
Item : 109896
Premium Amenity Kit Type
Includes 7" comb, 2 oz conditioner, 2 oz hand/body lotion, 2 oz shampoo and body bath, soap complexion bar, 2 oz lotion soap, 2 oz Alcohol-free mouthwash, individually wrapped adult toothbrush (41 tuft), Fluoride toothpaste and a 12" x 12" washcloth
Latex-free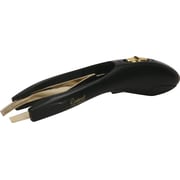 LED Tweezers
Item : 1440066
LED light provides exceptional accuracy for tweezing
Easily removes finest and most stubborn hairs
3 LR41 batteries included