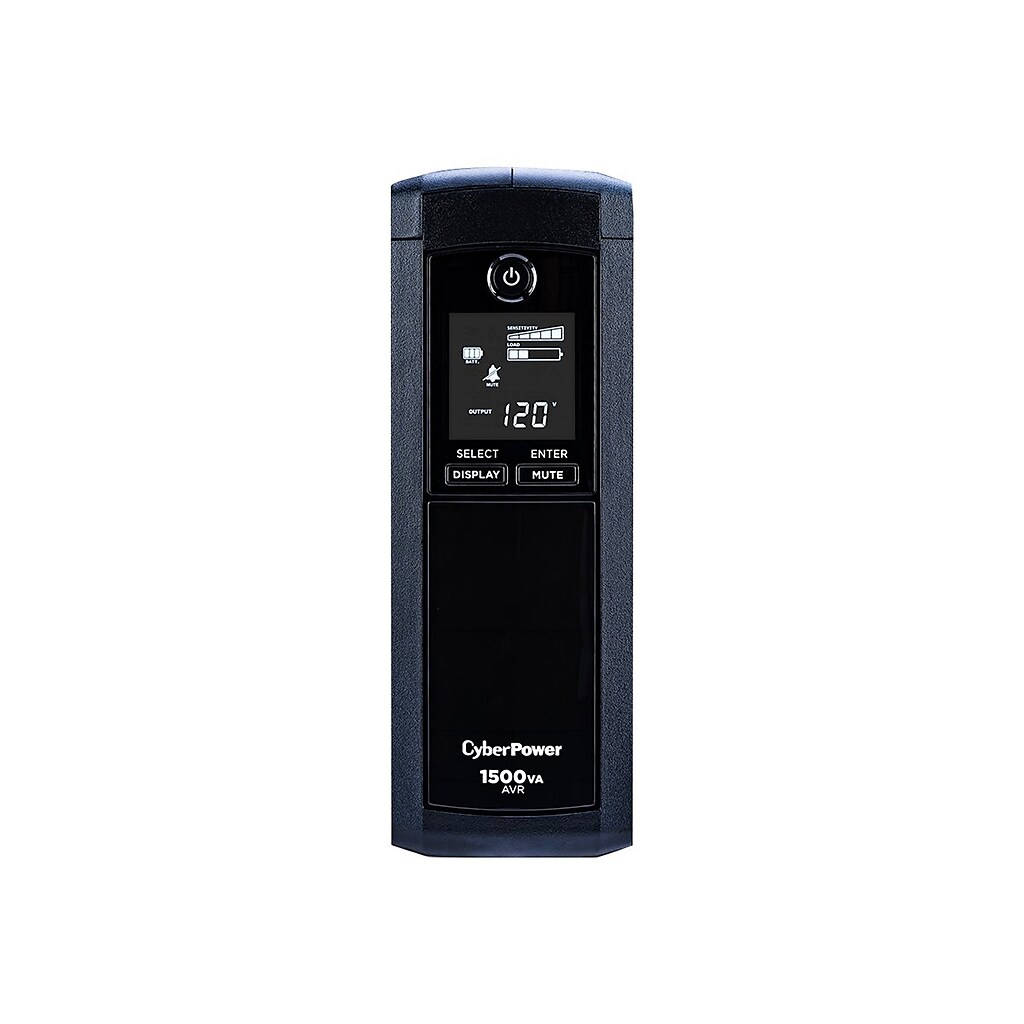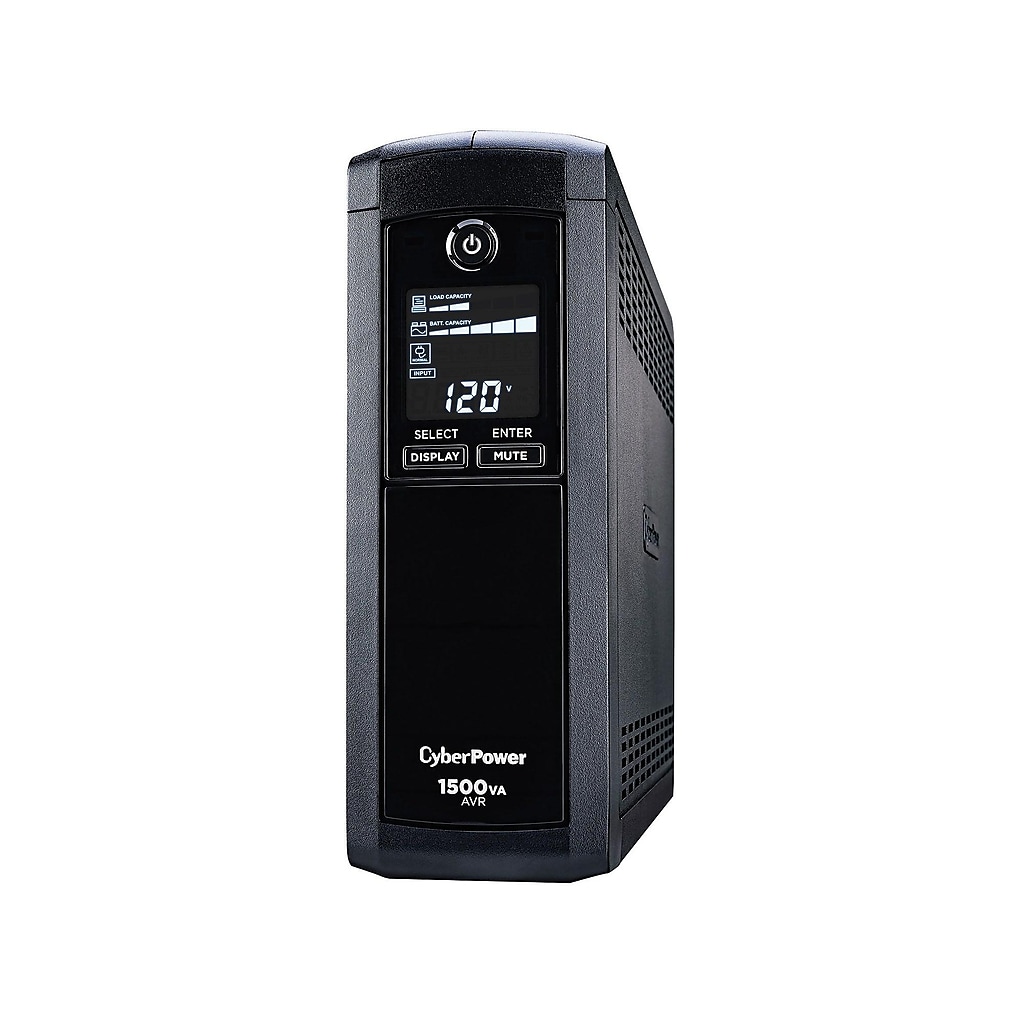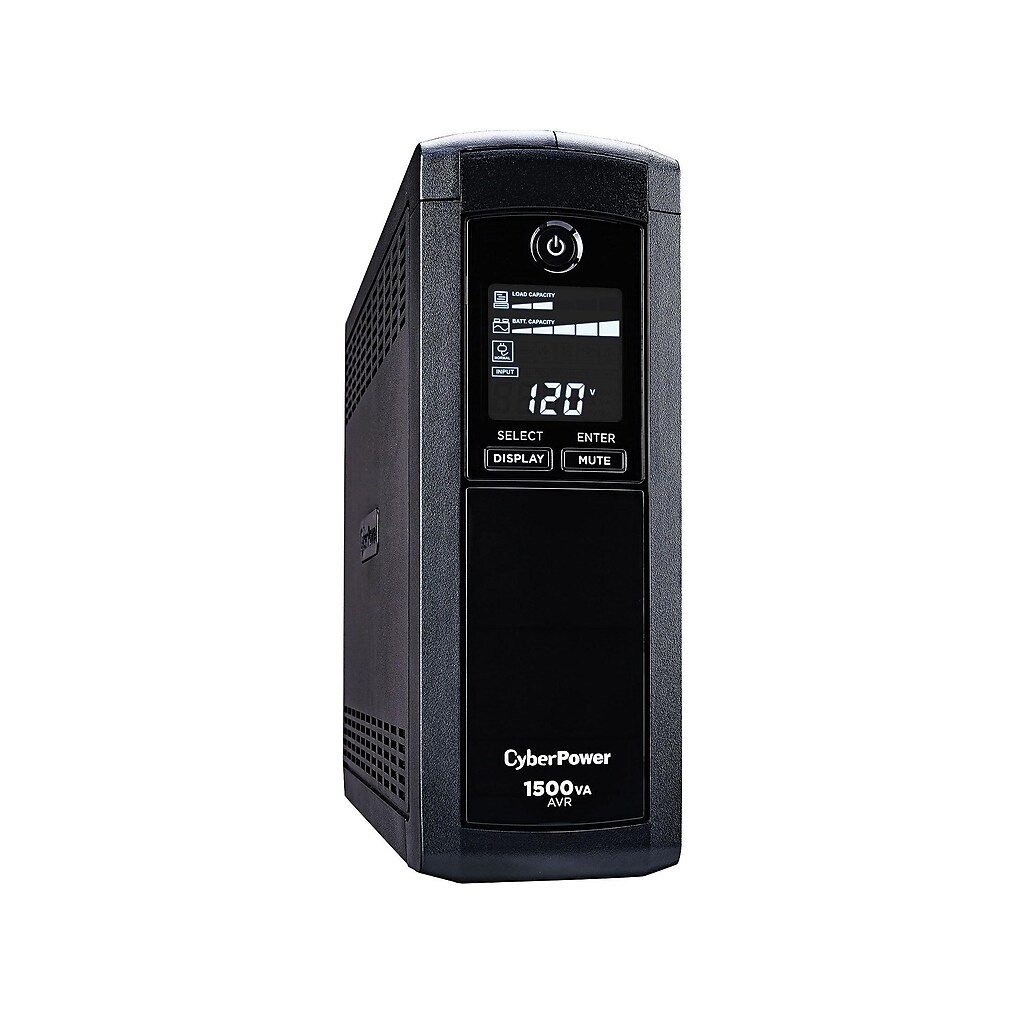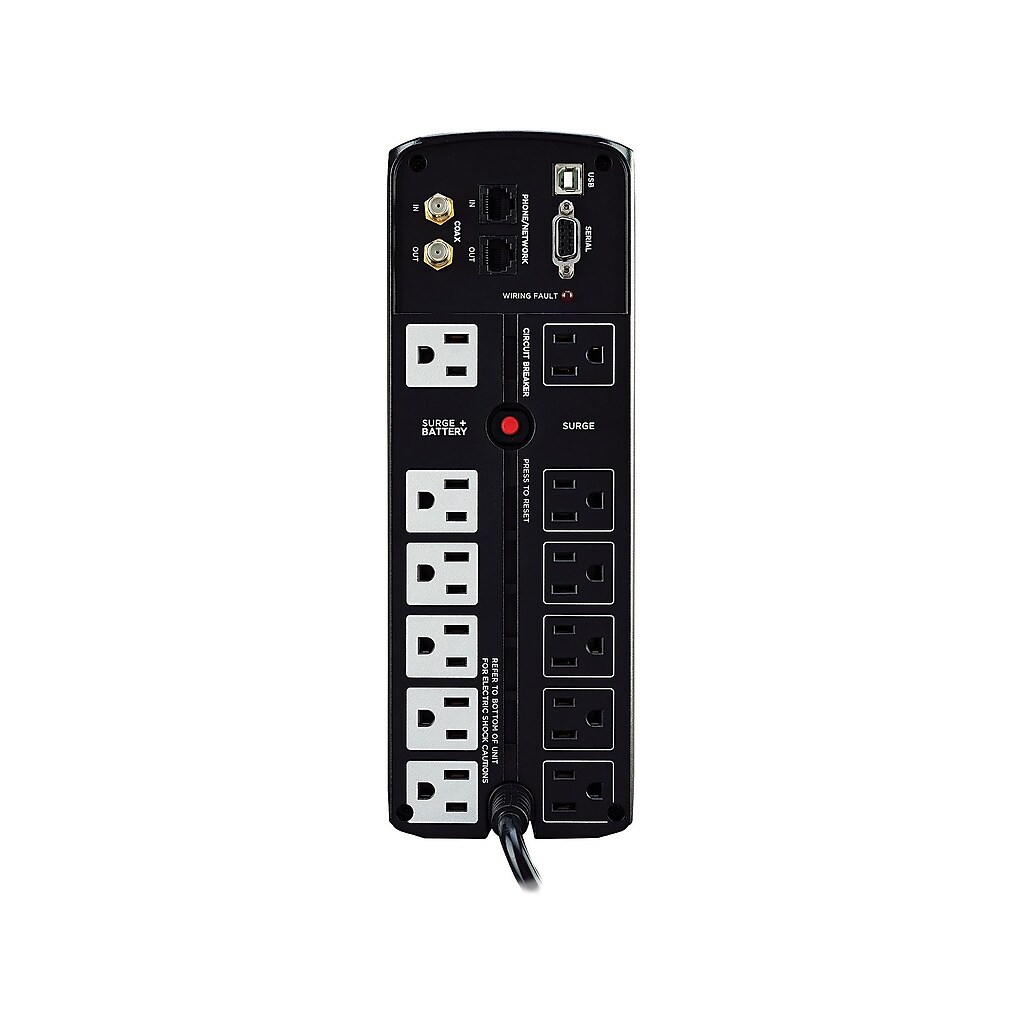 CyberPower Intelligent LCD UPS, Black (CP1500AVRLCD)
Item #: 649776
| Model #: CP1500AVRLCD
About this product
Choose this CyberPower Intelligent LCD 1500VA 8-Outlet UPS for mini-tower battery backup and surge protection to computers, networking devices, and entertainment systems.
Get extended battery backup to home and office electronics with this mini-tower UPS that has a user-friendly interface. This CyberPower Intelligent LCD UPS regulates minor power fluctuations, prevents power surges that come through data lines and diverts voltage away from the equipment.
UPS protects electronic equipment and prevents data loss during a power outage

Surge energy rating: 1500 joules

Equipped with 12 outlets for seamless connectivity

Provides USB connectivity for maximum flexibility

6' cord allows you to set up your system at a comfortable distance

Recharge time: eight hours

Output voltage of 120 VAC to ensure adequate power supply

One USB and one serial

Mini-tower form factor makes it convenient to install and use

Lead acid battery ensures efficient performance

Equipment protection policy: 500000 US dollars

Data line protection: telephone, Ethernet, and coaxial

Meets or exceeds FCC Class B certified, UL 1778, cUL 107 5th standards

Dimensions: 11"H x 3.9"W x 14"D

3-year manufacturer limited warranty
Ensure your electronic equipment is protected against a variety of potential power issues with this CyberPower UPS. An internal battery provides backup power during power outages, while surge protection and line conditioning offer clean, consistent outlet power. Overload protection guards against unsafe power conditions, and a front panel LCD screen keeps you informed of important information on current load and runtime.

Battery Backup
Protect your sensitive electronic equipment and safeguard important data from damage and loss caused by unexpected power outages with the battery backup feature. With a full-load runtime of three minutes and a half-load runtime of 11 minutes, this UPS keeps equipment powered on during short power interruptions and gives you time to save your data and gracefully shutdown your computer equipment if the power is going to be off for an extended period.

Clean Power and Surge Protection
Plug your electronic devices into this eight-outlet UPS and they're protected against power spikes and surges with a surge energy rating of 1500 joules and a maximum surge current of 105,000 amps. Overload protection guards against damage from excessive power draw, and simulated sine wave circuitry ensures clean output power for connected equipment.

LCD Panel
With its convenient front display, this LCD panel UPS makes it easy to get a quick update on the power situation. The easy-to-view LCD panel displays status indicators and lets you check the current load and estimated runtime with just a glance.