Navigate to Top
Get a handle on your business finances when you use an HP® financial calculator to make accounting computations easier. Financial calculators can help you make quick business decisions and understand important financial concepts. It is just as essential for students taking accounting, economics, and real estate courses as it is for professionals in these fields. Staples® carries a good selection of office supplies, financial calculators, and scientific calculators from HP.

Choose the Right HP Financial Calculator for Your Needs
In addition to the usual keys found on regular electronic handheld calculating machines, graphing calculators have dedicated keys to speed up financial calculations like TVM (time value of money), depreciation, interest rate, cash flow, and loan payments. The number of built-in functions varies from one model to another. HP's business calculators support between 120 and 250 different mathematical and financial functions. You should choose a model that is most suitable for your business class or work requirements. Entry-level models are perfect for introductory business management and accounting courses. High-end models are for advanced courses that require specialized functions. Some HP business calculators are also scientific calculators that you can use for high-school AP math and science classes.

Factors to Consider When Shopping for an HP Financial Calculator
Besides the number and type of functions pre-programmed into a business calculator, you should also consider other factors like its hardware and suitability for different courses and exams. HP models use monochrome LCDs and can display at least 10 characters in a single line. Pick a unit that can display up to 12 characters if your financial calculations require higher precision. The flagship HP model can display a maximum of 22 characters in two lines. Choose basic calculators if you routinely do calculations involving long, complex formulas with multiple steps and variables.

You should select your business calculator carefully if you are preparing to take financial certification exams. Professional bodies administering such exams usually provide a list of approved financial computing devices you can bring to their tests.

Can You Do Statistical Calculations With an HP Financial Calculator?
Yes. All HP business calculators can handle basic statistical functions like standard deviation. Some school calculators have a wider set of statistical functions. If you take college finance courses alongside statistical ones, you should get a handheld calculator that doubles as a scientific calculator. This can solve a wide range of business, math, and statistical calculations.

Are There HP Financial Calculators That Support RPN?
Yes. Some models support RPN or Reverse Polish Notation. This is a data entry method that simplifies function input. It is faster than algebraic data entry since it requires fewer button presses. You should get a model that supports this feature if you regularly solve complex equations.

Do You Need a Programmable HP Financial Calculator?
Choose a programmable financial calculator if your course of study or practice demands custom formulas specific to your field. Programmable models are more flexible than regular business calculators. In addition to the pre-programmed functions in the computing device, you can write and add custom formulas to the memory of a programmable calculator.
More
Less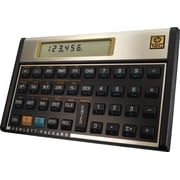 HP 12c Programmable Financial Calculator
Item : 150011
10-digit, 1-line display
Over 120 built-in business and financial functions including TVM, amortization, bonds, cash flow, and more
Select business functions at your fingertips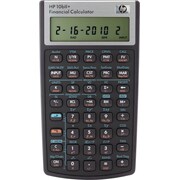 HP® 10BII+ Financial Calculator
Item : 896504
Ideal for accounting, business, economics, finance, real estate, and introductory math/science and statistics courses
10-digit, 1-line display
Accepted for use on CFP®* Certification Exam, IREM, AFP and CCIM Institute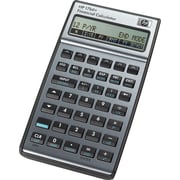 HP 17bII+ Financial Calculator
Item : 514436
21-digit, 2-line display
Over 250 built-in business and financial functions including TVM, amortization, bonds, cash flow, and more
Algebraic and RPN entry modes