Navigate to Top
Mucus specimen traps make the process of collecting patients' mucus specimens simple and efficient. Rely on high-quality, latex-free traps that come complete with a transport cup. These traps are small enough to easily fit into exam bags, ensuring simple portability.

Flexibility
Every patient is different, so you can offer your patients the flexibility they desire by using mucus traps with tubing that accommodates all suction catheters. This added capability allows for a universal trap, ensuring your patients receive high-quality personalized health care. Available with 40 and 80 cc capabilities, mucus traps suit the various specimen samples required, ensuring all your specimen-related needs are covered.

Precision
Mucus traps play a part in providing satisfactory health care by ensuring correct procedures and attention to detail in addition to saving time and aggravation. This, in turn, results in patients receiving a professional, reliable service. Take precise mucus samples and remove potential for errors with transparent plastic vials marked with clear gradations in 1 cc increments.

All The Essentials
Eliminate the need to purchase bits and pieces by choosing mucus traps with transport cups included. The latex-free mucus traps have all the necessary elements to perform easy and efficient mucus samples. Be prepared for your patients' other respiratory-related needs, with a full range of equipment, including aerosol and tracheostomy masks. The latex-free masks are available with universal unit compatibility, offering the flexibility and quality your patients desire.

Secure
After professionally and efficiently collecting a mucus samples, maintain a high standard of service by keeping samples safe for the next step of the process. With mucus traps bearing secure caps that screw on tightly, mucus samples are well-contained and safe, ensuring a simple and professional process from beginning to end.



More
Less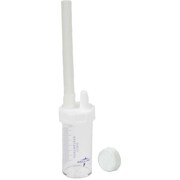 Medline Mucus Specimen Traps
Item : SS1102498
Transport Cup
Latex-free
Clear plastic vials have clearly marked gradations in 1 cc increments