How do I download the Easy Button?
Go to the Download page at StaplesEasyButton.com to start.
Click on the Download Now button.
The download process will start immediately.
Choose Run to install immediately or Save to save the installer to disk or drive.
If saved to disk or drive, find the Install_Easy_Button.exe file when you are ready to install.
Double click on the Install_Easy_Button.exe file.
How do I install the Easy Button?
A Windows message about the publisher may be shown after the installer is started. Choose Run.
Please read the License Agreement as presented in the Easy Button Install screen.
If you decide to accept the agreement, click the checkbox next to I Accept This License (Figure 2.0). The Easy Button will not install if you do not accept the agreement.
Click the "Install Now" button at the bottom of the screen.
The Easy Button will now install itself.
Once the installation is complete you will receive a welcome message on your screen. You'll need to enter your email address, first name, last name and zip code. From there, you will receive a Thank You page. Click to launch your Easy Button. Click on it to launch the Easy Button.
Tips
To install the Easy Button in a custom directory, simply change the path as shown in Figure 2.0.
To install the Easy Button on another computer, either download the installer again or use your copy of Easy Button.exe.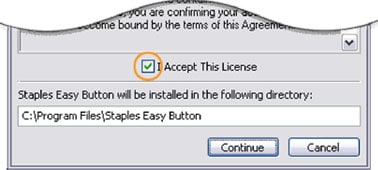 Figure 2.0: Easy Button cannot be installed if you do not first accept the license.
Installed Files
By default, the Easy Button Installer creates the following directories:
C:\Program Files\Staples Easy Button
C:\Documents and Settings\USERNAME\Application Data\Staples Easy Button
How do I install the Easy Button for Multiple Users?
When the Easy Button is installed on a computer with multiple user accounts, each user will have their own set of preferences. As soon as a new user starts the Easy Button, it will be launched with his or her own preferences.
How do I launch the Easy Button?
The Easy Button is configured to start up with Windows.
The easiest way to launch Easy Button is to use the shortcut in Programs within the Start Menu.
You can also start the Easy Button by double clicking on the desktop shortcut icon.
Tips
You can prevent the Easy Button from starting up with Windows through the General tab of the Options window.