Learn More About Our Selection of Networking Products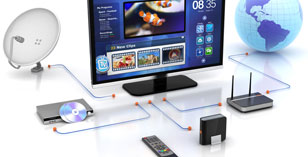 Staples offers every component and device you need to build and use your wireless network. Here's a quick look at some of our most popular products:
Netgear Nighthawk Wireless Router
The Netgear Nighthawk Wireless Router is a dual-band unit, featuring the fastest Wi-Fi currently available — up to 600 plus 1300Mbps and Gigabit Wi-Fi. Its high-powered amplifiers provide great range via three external antennae.
Motorola SURFboard SB6121 Cable Modem
Perfect for users with advanced multimedia requirements, the Motorola SURFboard SB6121 Cable Modem is fast and boasts data rates of more than 100Mbps in each direction.
Netgear Range Extender
Easy to set up, the Netgear Range Extender unit boosts signal range and is compatible with all security standards including WPA and WPA2 to keep your data safe.
Staples® Connect
Staples Connect, our own hub-and-app system, lets you control your home or office via smartphone, tablet or PC and helps you connect the devices you want to use. The device connects wirelessly or via Ethernet to your broadband network.
Google Chromecast
Google Chromecast lets you stream HD video from Netflix, music from Pandora and more from your smartphone, tablet or laptop to your television. Compatible with Android, iOS and Chrome for Mac and Windows.
Apple TV
Enjoy your iPhone, iPad or iPod Touch even more with Apple TV. Access content from Netflix, YouTube, HBO, Vimeo and even your own devices, and watch it in 1080p HD.
WD My Cloud
WD My Cloud is an easy, safe way to store electronic documents and digital photos, video and music. It's Gigabit Ethernet-compatible so file transfers are fast.