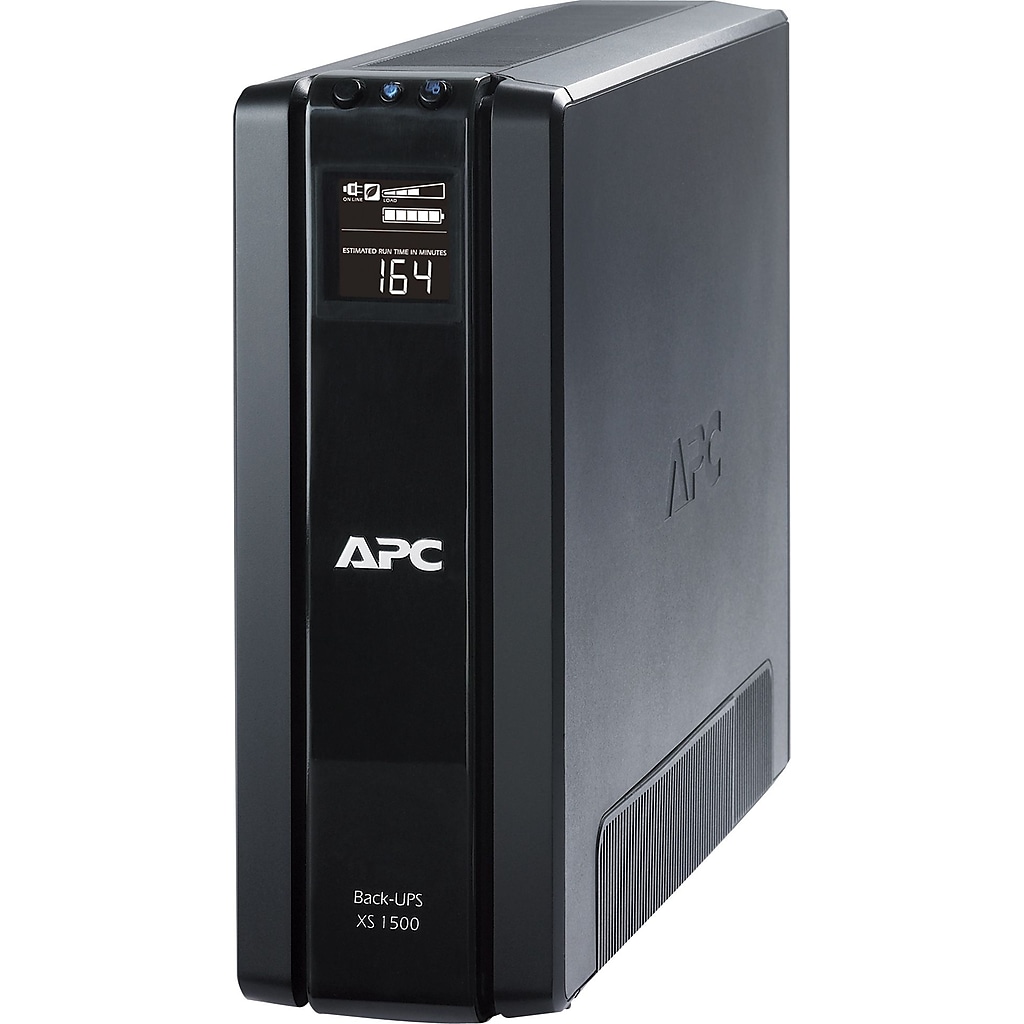 APC Power Saving Back-UPS Tower 1500VA LCD Display 10 outlet (BX1500G)
Item #: 797220
| Model #: BX1500G
This item is out of stock for delivery
About this product
High Performance Computer and Electronics UPS for Premium Power Protection.
The electronic devices we rely on every day for communication, security, and just about everything are at risk of damage due to unexpected power outages, voltage fluctuations, and other disruptions. The APC BX1500G Power Saving Back-UPS provides instant battery power backup to your critical electronics when the power goes out to keep you connected and online. Additionally, it offers surge and lightning protection. By connecting your valuable electronics to the APC BX1500G UPS, you are ensuring your investments are safe from potentially irreversible damage.
Power-saving UPS protects server or computer from power interruption

Load capacity: 1500 VA at 865 W

Dimensions: 11.85"H x 4.4"W x 15.04"D

Recharge time of 16 hours with a battery backup runtime of 4 minutes on full load and 13 minutes on half load

Nominal output voltage of 120V

LED status display lets you understand unit and power status with visual indicators

Hot-swappable design ensures clean, uninterrupted power to protected equipment while batteries are being replaced

10 outlets with NEMA 5-15R receptacles

NEMA 5-15P input plug with a cord length of 6 feet

Includes 3-year standard warranty with a lifetime $150,000 equipment protection policy
Powers Your Most Important Devices During Outages
The APC Back-UPS XS 1500VA 10-Outlet Power-Saving UPS offers essential backup power for your most important home and office and electronic devices during power outages. Ideal for computer systems, network devices, and external storage systems, the APC Back-UPS XS 1500VA features five outlets that supply backup power (of ten outlets total total) with an 865-watt/1,500-volt ampere output power capacity, so you can keep your essential electronics running.
Protects Devices with Automatic Voltage Regulation
All devices connected to the APC Back-UPS are protected from dangerous voltage surges and spikes thanks to Automatic Voltage Regulation technology, which consistently maintains safe voltage conditions without using the battery. In addition to the 10 protected electrical outlets, the APC Back-UPS XS 1500VA provides data line surge and spike protection for telephone, Ethernet, and coaxial cable connections.
Convenient LED Display
The multifunction LED display on the front of this APC Back-UPS lets you easily monitor the status of the unit's essential functions with text and mimic diagrams that display modes of operation, system parameters, and alarms. Monitor remaining battery life, estimated runtime remaining, input/output voltage, current load, and more.
Hot-Swap Batteries Keep You Powered Without Interruption
During extended power outages, the batteries in the APC Back-UPS XS 1500VA can be hot-swapped for fresh ones without powering down your connected devices so your computers and network devices can stay powered and continue functioning without interruption.
Downloadable PowerChute Software Available
This Back-UPS unit comes with download instructions for PowerChute power and energy management software. This software helps prevents data corruption during extended power outages and low-battery situations by automatically saving files and shutting down your system. PowerChute also monitors and displays energy usage and helps to reduce costs with customized energy management planning.
Package Contents
APC Back-UPS XS 1500VA 10-Outlet Power-Saving UPS with 6-foot power cord, USB cable, PowerChute Personal Edition software download instructions, and user manual.
Safety Data Sheet