Navigate to Top
When you run a business or work in an office, there's likely to be paperwork. Butterfly clamps are just the right tool for your organization arsenal. Keeping important documents arranged neatly is of the utmost importance, and clamps help keep different sets of papers separated while keeping files neatly contained. Staples® offers these supplies in a range of sizes, along with alternatives such as paper clips, clothespins, and bulldog clips in order to accommodate your every need.

How Butterfly Clamps Work
Unlike a binder clip or staple, butterfly clamps work well for a large stack of papers. The office tool is expandable, which makes it easy to keep a thick stack of files or paperwork secure without pages falling out or creasing. This style of clip easily expands to hold up to 150 pages, ensuring more value than a simple staple or other type of clasp that may only comfortably hold a few pages together. The odd shape may look unusual, but the design works to secure files or papers without bending, damaging, or tearing the pages.

Sizes of Butterfly Clamps
For a perfect fit, choose the proper clamp for the job. These clasps come in two main sizes, including the #1 style, which is the larger model and holds up to 150 pages. Another option is the #2 design, which is the smaller size that holds up to 100 pages. The sturdy, steel clips are rust-resistant and lightweight, making both sizes simple to use.

Are Butterfly Clamps the Same as Paper Clips?
The short answer is no. Paper clips aren't expandable nor do they have the same unique design. However, many users combine paper clips with clamps to provide a constructive solution for paper organization. If you have several sets of documents that need to stay separate but you must transport an entire stack of pages, separate them with paper clips, and then secure the whole stack with a butterfly. These two supplies work in tandem for the most optimal solution for multiple sets of documents. These heavy-duty office supplies also work with thicker paper, including card stock or cardboard.

Do Butterfly Clamps Come in Different Designs or Styles?
Though most clamps are available in two distinct sizes and a standard silver tone, there are other options. Some clasps come in different colors and designs to add a flair to your office supplies or school assignments. They work the same way as traditional clips do, with an added pop of color. These are ideal for organizing papers going to different departments or offices, and further help to organize and categorize office paperwork or assignments by class.

How Should You Purchase Butterfly Clamps?
These supplies come in boxes according to size. The #1 clasps come 12 to a box, while the smaller #2 designs come 50 to a box. Purchase them according to the size you desire or have a mix of both sizes on hand for convenience. Using Auto Restock by Staples ensures you never run out of these must-have office supplies, and you choose a date to automatically replenish your supply of clips, making life just a little easier.
More
Less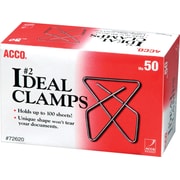 OIC Ideal Butterfly Clamps
Item : SS980820
Made of heavy-gauge steel wire
Superior holding strength and durability
Available in small and large sizes