Navigate to Top
Stock your facility with these electrosurgical accessories, each designed to support common surgical procedures. Whether your doctors are performing a dermatological procedure or heart surgery, the accessories support the process. Select from products including racks, canisters, and carrying cases.

Easy-Access Oxygen Storage
Create a complete operating room setup with electrosurgical accessories designed to hold oxygen canisters. Choose between a variety of styles, including stands, racks, and portable carriers. Each one holds oxygen near the patient, making it easy for doctors and nurses to adjust the flow during an operation.

Efficient Operation
Maintain your operating room's cleanliness during and after a procedure with electrosurgical accessories designed to store and remove waste. Prevent the risk of spills with suction canisters that shut off automatically at a certain fill point. Many accessories are disposable, making post-operation cleanup a breeze. Use them with approved biohazard liners to ensure safe and sanitary medical waste removal.

Convenient Design
Each of these electrosurgical accessories are designed to create a more convenient operating experience for health care professionals, so they can stay focused on the patient. Keep your pain management equipment running efficiently with replacement TENS lead wires, which plug in quickly and require no tools for installation. With a lightweight suction machine carrying bag, you can transport equipment safely between operating rooms.

Durable Materials
Electrosurgical accessories are engineered specifically for medical use and constructed with durable materials that hold up in high-pressure situations. Racks made from heavy-duty metal hold a full load without snapping during a crucial moment. Other products, such as suction canisters, use sturdy plastic that is light enough for all health care professionals to carry comfortably.



More
Less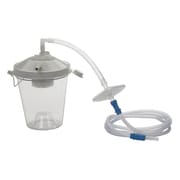 Drive Medical Universal Suction Machine Tubing and Filter Kit
Item : SS3277593
Clear, Silicone
3.00"L x 3.00"W x 5.00"H and 72.00"L x 1.00"W x 1.00"H.
Includes hydrophobic suction filter, 10" soft flexible medical grade silicon suction tubing, 72" suction tubing with blue tip, universal suction canister elbow and 10" tubing, elbow connector, 72" suction tubing, and hydrophobic filter.