Navigate to Top
See your patients clearly and reduce the number of accidents that occur in the operating room or surgical room with anti-fog kits. Specifically designed for use on surgical masks, the kit cuts down on the fog you see in your glasses or goggles to help you go your job more effectively.

Convenient Storage
Store anti-fog kits quickly and easily around your medical office. Choose between blister packs and soft packs. Soft packs stack together for fast and easy storage in a cabinet or drawer, and with blister packs, you can place the packs on a shelf or hang them from a hook.

Easy to Use
Use anti-fog kits any time that you want to cut down on the fog you see when working on patients. The kits come with a bottle of anti-fog solution and a soft sponge. Use the sponge to apply a thin coating of the solution to your glasses or goggles before stepping into the room.

Latex-Free
Let everyone in your facility use these kits, regardless of whether they have allergies to latex. As the anti-fog kits are latex-free, you can use the solution on any of the OR and surgical face masks that nurses and other doctors use in the operating room.

See Clearly
Even when the temperature in the room is hot and you cannot stop sweating, you can still see clearly when you use anti-fog kits first. The helpful kits reduce the amount of fog that builds up on your glasses when you sweat or breathe heavily to help you see more clearly.



More
Less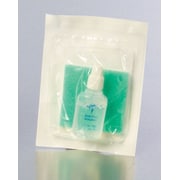 Medline Anti-Fog Solution Kits
Item : SS1102094
Anti-Fog Solution Kit Type
Latex-free
Our high-quality, effective anti-fog solution helps surgeons see through their face mask more clearly