Navigate to Top
Indoor and outdoor light displays for the holidays draw attention to your business, which can increase foot traffic and sales. Seasonal projectors make it simple to create dazzling displays without taking employees away from important functions within the office. Whether setting up a light show to celebrate the holidays or simply making your retail property stand out, Staples offers a variety of projectors that fulfill this function.

The Benefits of Seasonal Projectors
Hanging strands of lights and using materials to decorate lobbies, waiting areas and facades requires manpower and time, and needs plenty of space for storing the items for the next year. A projector requires a few minutes for setup, and since it's a contained unit, users only need to hide one cord. Seasonal varieties include different lighting options and images, and changing between the holidays and time of year is as simple as pushing a button to find the desired pattern or graphic. A single unit provides a broad area of coverage, even when placed 30 feet or less from the area of decoration.

Consider the Features of Seasonal Projectors
There are seasonal projectors that display light groupings in varying colors, providing a simple show of moving lasers. Other options include graphics that match different seasons, letting users change their decorations throughout the year. Units featuring metal construction stand up to frequent use and have more protection when used in high-traffic areas. Look for models that are weather-resistant to create outdoor displays directly on the front of a building. Products with lasers produce crisp images and eliminate the need for frequent bulb changes when you're running them for extended periods.

Do Lumens Matter on Seasonal Projectors?
The lumen count on an overhead projector describes the brightness level. Models with lower lumens work well in areas that are dark or have little ambient light. When creating indoor shows in spaces with windows or overhead lighting, consider options with 7000 lumens or more. These models ensure the graphics and lights are crisp and show up well in all types of lighting.

Are Other Features Available on Seasonal Projectors?
Models with HDMI controls connect to compatible devices, letting users change the displays quickly and easily. Seasonal projectors with HDBaseT connectivity options provide audio and visual controls along the same cable, ensuring a display that entertains guests and attracts others to the location.

Do Seasonal Projectors Require a Specific Angle for Projection?
Pico projectors are available in stationary models that users point at the desired location. These options can be set one time, reducing the need for relocation. Units with multiple lenses provide projections of varying sizes for increased creativity. Move the projector closer to the display area for larger graphics, or move it back to create smaller images. There are also mountable models with movable heads that let users decorate the walls, floors or ceilings.

How Much Area Does a Seasonal Projector Cover?
Most products work properly from a distance of 30 feet from the display area. Home theater projectors cover between 600 and 1,600 square feet, ensuring an option that works for most spaces. Consider models with shorter throw distances in small or narrow areas to ensure optimal coverage without distorting the images. Pick up new projector screens while shopping with Staples.
More
Less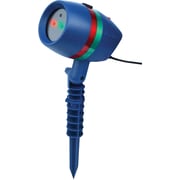 Star Shower Motion
Item : 2148168
The easiest and fastest outdoor Christmas light solution
No more hanging string lights
Star projector covers over 600 square feet