Navigate to Top
Individuals make an array of financial computations in their personal or business lives. A Sharp financial calculator has specific functions that are not available on a standard mathematical device for making specific computations involving money and finance. Staples carries a variety of branded financial calculators as a part of our office supplies inventory.

A Sharp Financial Calculator Is a Valuable Tool for Households
One of the functions of a calculator for finance and money is to help households make and manage investments. Many financial calculators have specific keys for computing the present value and future value of money. These are the two key functions that let households calculate the earning potential of the money they have on hand now. The key functions help people decide how much money they can put aside for retirement investments like 401Ks, IRAs, and annuity accounts, while also calculating how much they can expect in retirement from guaranteed income like pensions and social security. Individuals must also balance their investment decisions against everyday expenses.

Other calculators provide computations for determining whether to lease or buy a car, pay down or pay off credit cards, or take on added household expenses, like a vacation home. People may also use the device for computing mortgage and refinance options, as well as tax obligations. The key functions help households decide how much on-hand money they have to use today while also growing some of that money for income protection when they retire.

A Sharp Financial Calculator Is Necessary for Several Occupations
Key-functional calculators dealing specifically with money and finance are necessities for money managers, brokers, and advisers in the banking, investment, and insurance industries. They are also critical in real estate and commercial businesses. Scientific calculators have specific keys that give real-estate agencies the precise information they need to compute the tools of their trade, including commissions, closing costs, loan matrixes, amortization schedules, and the rate of return on investment properties.

Any business needs graphing calculators to determine profit, sales, and cost differentials, breakeven margins, inventory depreciation, capital asset pricing, cash flow, production costs, and business-related tax obligations. The calculators give owners the exact information they need to run successful businesses.

Who Else Can Benefit from a Sharp Financial Calculator?
Undergraduate and postgraduate students in business administration, accounting, and economics are sometimes required to have key-specific calculators available in their classrooms. Individuals studying for certifications in insurance and finance, including CFA, CFP, CIMA, FINRA, and actuarial credentialing, need these specific calculators to study for demanding exams. Button functions on the calculators enable students and exam takers to familiarize themselves with financial concepts and use them in practical applications.

What Are the Key Features of a Sharp Financial Calculator?
The size of the display line on a calculator is important in many businesses. Most calculators for finance have at least a 10-digit readout to accommodate large monetary amounts containing multiple decimals. Other displays have several stacked readout lines to show computation progressions. Another important feature is the amount of memory. Some computations require storing monetary variables for later calculations, so some devices offer as many as 1,000 storable entries for recall and trackback purposes.

What Else Should You Look for in a Sharp Financial Calculator?
The convenience of using a calculator is important. Many calculators are pocket-size, making them easily portable from one venue to another, while some have a design specific for desktop use, with oversize keypads and flip stands for ergonomic hand positioning. Calculators are also available with or without covers and cases, and they come in different finishes. Another feature that may be important is whether they have accessory time management tools, including clock and calendar displays and appointment notifications.
More
Less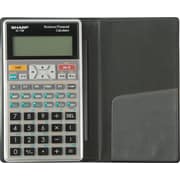 Sharp® EL-738 Financial Calculator
Item : 663650
10-digit, 2-line display
Cost-sell-margin and markup calculations
Business and financial calculations including TVM, amortization, cash flow, and interest rate conversions