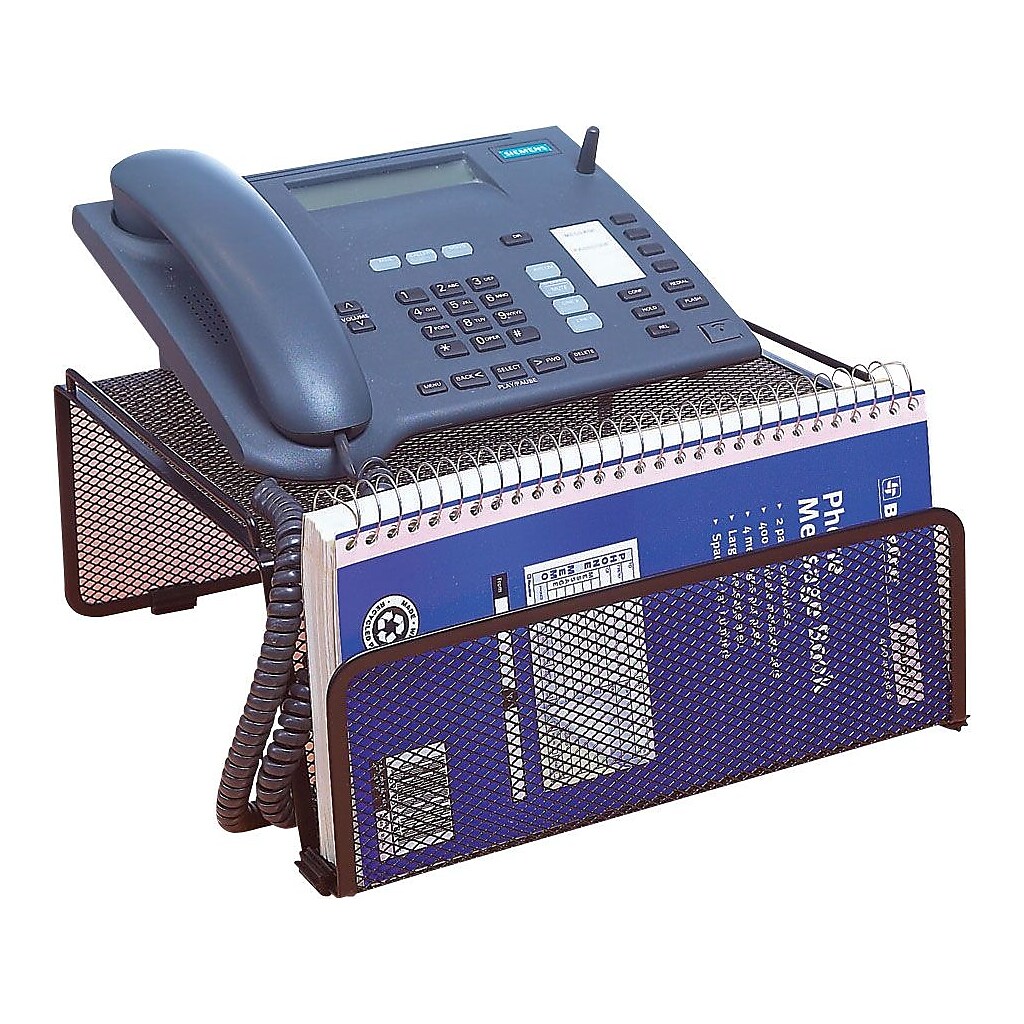 Staples Black Wire Mesh Phone Stand
Item #: 827998
| Model #: 11962-CC
This item is out of stock for delivery
About this product
Staples wire mesh phone stand helps keep your desk organized
This Staples wire mesh stand keeps your phone easy to reach and helps you stay organized. Make the most of precious desk space when you use the convenient storage space beneath the phone platform of this compact unit. A handy front pocket provides smart storage for pads and envelopes. Great for use at home or at the office, the stand is constructed with sturdy steel mesh for durability and strength, and the black epoxy finish blends well with any decor.
Black steel mesh

Epoxy finish for durability

Staples Brand 100% Satisfaction Guaranteed

Steel mesh coated in black epoxy

5 3/4"H x 11 3/4"W x 13"D

Front pocket is ideal for storing pads and envelopes
Work with more efficiency and style with the Staples black wire mesh phone stand. Its sturdy steel mesh design makes the phone stand ideal for frequent use. Front pocket storage is ideal for stocking note-taking supplies and important information. With its black epoxy finish, the wire mesh phone stand is the marriage of trendy and practical.

Front Pocket Storage
Keep your phone book, menus, message pad and other items handy in the Staples phone stand front pocket. Take messages or access important phone numbers without ever walking away from the phone. Also store writing utensils and self-stick notes to quickly post reminders and notes during vital calls. The Staples phone stand is convenient, practical, and cutting-edge.

Stylish and Sleek
Shining with a black epoxy finish, the wire mesh phone stand adds an elegant flare to any home or office. It's sleek design allows for a more stylish desk or work area. In addition, this black phone stand contains highly durable mesh, making it reliable for everyday use. The mesh design offers better usability and offers a storage space option. Modernize your telephone experience with the Staples black wire mesh phone stand.