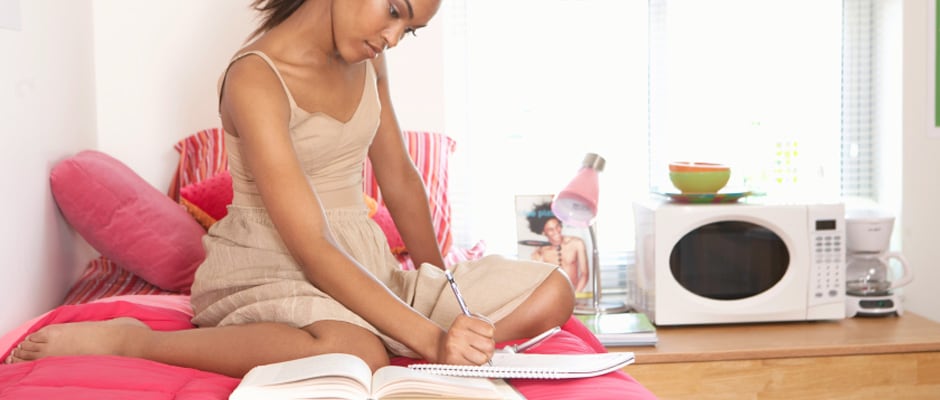 What to Pack: Your Back to College Checklist
For those living on campus, move-in is an exciting time. But in the run-up to the first day of class it's easy to feel overwhelmed or forget a few items, especially during this extra stressful time. If you're headed to campus make sure these essentials make your packing list.
Technology
Computers:

A laptop is a must-have, but leave the printer at home. "Campus will be full of them, and you probably won't have space for one anyway," says Brian Kearney, a recent graduate. Laptops also double as TVs, so no need to bring a hulking flat screen.


Pro tip:

Research your college's computer requirements — some are more restrictive than others.

Accessories:

Power strips and charging stations, USB flash drives and wireless headphones are things you'll want to have at your side.


Pro tip:

Your phone can double as an alarm clock, calendar and radio, thanks to desktop speakers.
Desk & dorm essentials
Pens and paper:

Most students take notes on computers, but there are still times when putting pencil to paper makes sense. "Make sure you have the basics," says recent graduate Julie Zeilinger. Pens, pencils, sticky notes, paper clips, a stapler, scissors and other items "you feel you objectively don't need in the digital age, but then always end up needing."

Kitchen supplies:

Eating won't always happen in the dining hall, so Zeilinger suggests keeping plastic plates and utensils around. If being a foodie is part of your campus dream, mini fridges, microwaves and coffeemakers are additional must-haves.


Pro tip:

For safety reasons, most schools ban toaster ovens and the like. Ask the resident advisor or admissions office before purchasing this equipment.
Personal items & storage
Bedding:

"In close, shared spaces, it's important to have your own unique space that reflects your personality," says Charlene Jimenez, an adjunct creative writing professor. Pack your favorite set of sheets, blanket, comforter, pillows and a bed skirt to hide items stored below the bed. Check with the student affairs office or the dorm's residential advisors to see if specific bedding sizes (like extra-long twin sheets) are needed.


Pro tip:

Need more storage? Just prop your bed up on risers and stow under-bed bins or crates filled with extra shoes, cleaning supplies or K-Cup® pods for your Keurig®.

Clothes:

Fitting an entire wardrobe into a confined, shared space is challenging, but closet and nesting clothes hangers free up space for other items like laundry supplies.

Toiletries:

If you share a central bath, you may be schlepping shampoo and towels back and forth. Stock a caddy full of must-haves (hair supplies, soaps, razors, etc.), grab those shower shoes and robe, and enjoy communal living.
Focusing on the essentials is the best approach. "There's one basic rule parents and students should keep in mind: Minimalism is key," Zeilinger says. Use this on-campus essentials checklist to make sure you or your student has everything they need to live, study and excel at college.
Related Articles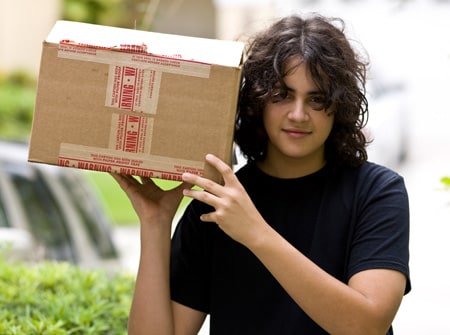 Freshman 15: Must-Haves for College
Heading off to college? Don't get overwhelmed with what to pack. Use this list of 15 must-haves for college freshmen. Read more...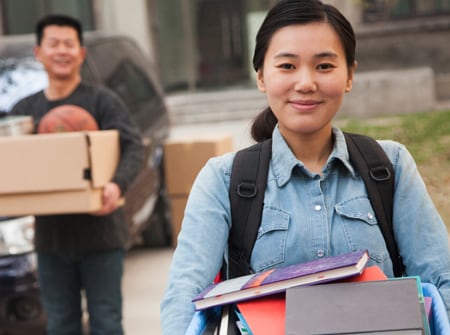 College Dorm Room Essentials 101
Going off to college doesn't have to be all that scary. There are ways to make your new dorm room feel like home. Read more...