Easy Button Options (Figure 4.0) provide you with the controls needed to apply settings to the entire application. Choices are organized into groups and placed within their own Tab Panels.
To open Options, press the button labeled Options in the top-left corner of the Easy Button Toolbar or use the contextual menu.

Figure 4.0: Easy Button Options
Changes made within this screen, (Figure 4.1) apply to the Easy Button immediately. When you're finished, click the Close button located in the bottom-right corner of the window.

Figure 4.1: Easy Button Options
Easy Button Options | General
This panel provides you with a collection of controls for managing the behavior of your Easy Button.
Start Up Check off this checkbox if you'd like your Easy Button to launch automatically each time you start up your computer.
Web Browser Choice Your Easy Button offers you the ability to open links using whichever Web browser you prefer. For some browsers you have the choice to open links in a new window or to reuse the same window each time. The ability to open links in an existing window is affected by settings within your browser and may not be available with your current browser settings.
Play Sound Select this option if you'd like to hear a sound when the Easy Button application is maximized. You have the option to hear Staples That Was Easy or just a simple click.
My Location The zip code you enter into this field will be used to display your local weather and local Staples stores.
Alerts Enable this checkbox to be alerted when there are new Staples offers. You have the ability to snooze the alerts for 15 minutes, 30 minutes, or 1 hour.
Easy Button Options | Connections
This panel offers you the ability to specify how your Easy Button will access the Internet. It is recommended that only users comfortable with the fundamentals of networking adjust any of these settings.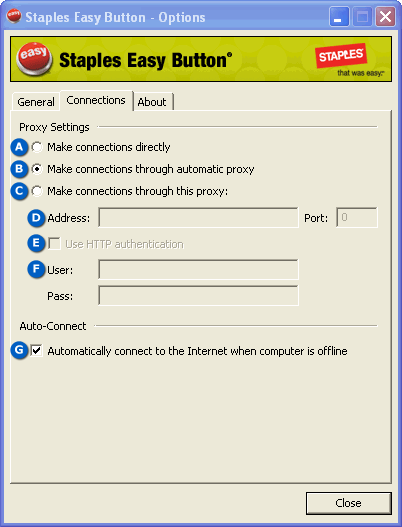 Direct Connection The most straightforward way for your Easy Button to access the Internet. Useful if you're using a regular modem or dial-up connection and not a network.
Use Automatic Proxy This setting forces the Easy Button to use the security setting as specified in your Internet Options control panel. This is the default setting, and if your Easy Button is working, there is no need to change it.
Specify Proxy Your Easy Button can tunnel through a firewall and use a proxy in a secure network environment. By selecting this radio button, you can specify a proxy address and port.
Proxy Address and Port These are required when using the Easy Button on a network that is set up to use a specific proxy. Your network administrator can provide you with these values if you don't already know them.
Use HTTP Authentication Selecting this checkbox allows you to enter a login and password, should they be required for access to the proxy.
Login and Password Enter your login or username and password in these fields. If you're not sure what they are, talk to your network administrator.
Connect Automatically When checked, the Easy Button will automatically establish an Internet connection whenever it needs to. If you're on dial-up or using a laptop you might want to turn this feature off.
Easy Button Options | About
Contained within this panel are details about the version of the Easy Button you are using, and a useful option for checking on the availability of a newer version.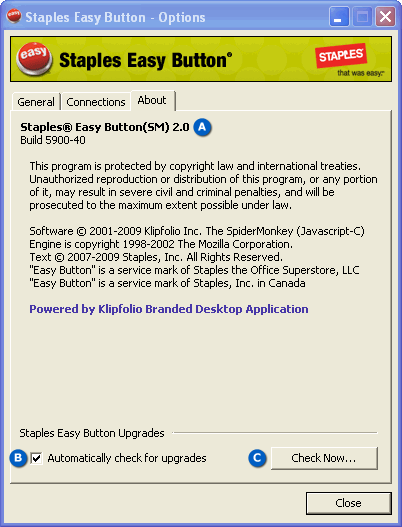 Easy Button Version Number When communicating with Staples support, please refer to the numbers specified here.
Automatically Check for Application Upgrades Selecting this checkbox instructs your Easy Button to periodically check for the availability of a version of the Easy Button newer than the one currently in use.
Check Now Clicking this button triggers your Easy Button to look for a newer version immediately.
Tips
It is recommended that you set your Easy Button to check for new versions on a regular basis and perform the upgrades as indicated.