7 Tips to Make the New World of Mobility Work for You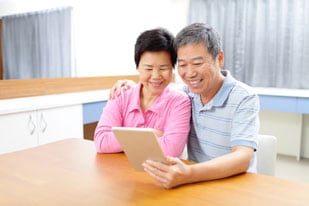 You're never far from the people or digital assets you care about thanks to the multitude of mobile devices available today. We can connect with important people via voice, video chat, email or text message. We can keep up with our social networks or enjoy games, videos and music. We can even roll up our sleeves and get some actual work done, on our wrists, in the palms of our hands or at our fingertips. These lightweight mobile phones and tablet computers with intuitive touch-screen controls can do just about anything.
That's not to say managing this always-changing mobile ecosystem is hassle-free. To make mobility work for you, you often need to juggle multiple devices and coordinate information stored on them and in the "cloud."
Here are seven tips to help you ease the route to mobility:
Stay in Sync: When you're mobile, you want all your information available all the time. Possible? Not quite. Make things easier for yourself by choosing devices and services compatible to the ones you already own and use. Devoted to your iPad®? Then choose other iOS-enabled devices, too. Digging your Windows® computer? Stick with that platform. Psyched about Chrome? You know what to do. All your devices don't have to run on the same operating system, but it makes accessing documents, photos and other files much easier.
Embrace the Cloud: Cloud computing makes your files available from any device regardless of operating system. The more you rely on the cloud, the less you need to shuttle files with thumb drives and emails. Dropbox(for Android™, Blackberry, iOS and Kindle) is now an essential tool for those relying on their mobile devices to access documents, but plenty of other services - Apple® iCloud, Google™ Drive and Microsoft® OneDrive - also help you access everything on the go.
Get a Multipurpose Case: Cases aren't just for looks, though there are plenty of stylish options out there, like the Pursecase. Form meets function with cases that serve as backup batteries/chargers or as phone/tablet "kickstands." There are also sturdy cases designed to protect your devices, especially valuable if you're clumsy or working in the field. Choose a case that protects your device, has extra functionality and shows off your personality.
Take Care of Business: Extend the functionality of mobile devices with additional equipment. External wireless or Bluetooth® keyboards make typing easier and more efficient. Portable projectors and external monitors enable you to turn your small screen into a larger one.
Turn it Up. Desktop or outdoor wireless speakers amplify the tunes to a broader audience, or keep it to yourself with high-quality headphones.
Array of Apps: Apps are the key to your mobile toolkit, so do your research. The freebies? Many are worthwhile, but you may need to pay to unleash all the power an app has to offer. Read the reviews and talk to users you know to decide if it's worth spending a few bucks on an app to help you be more productive. For instance, with the right apps, your mobile device can be used as a presentation display or remote control. Trade groups also share information on industry-specific apps for your small business. 
Stay Secure: Many of today's mobile devices include remote-erase capability (or remote wipe) that disable the item if it's lost or stolen. This is especially important if you store much personal data (and we all do) on your tablet, laptop or phone. Be sure to use the device's onboard login security features like a password or retina-, fingerprint- or voice-recognition functions. Ratchet up the security quotient even further with a password manager that allows you to generate, store and access secure passwords from all of your devices.
Whether it's your phone, your tablet or an ultra-light laptop, you've got more power in your hands than ever before. Use these seven tips to get the most from these useful devices.
Learn More About the Hottest Tablets
Click on the tablets below for more information.
Shop our entire assortment of tablets, tablet accessories and protection plans now!