Window displays are extremely important for any retail small business. More often than not, they're the first point of contact between your store and your future customers. And making a good first impression can make or break your brand. They can also be one of your strongest and most affordable forms of advertising; If you've got a great window display that catches people's attention, conversation about your business will happen naturally. Finally, they're completely customizable. Setting them up to best suit your retail store can require fairly little effort. Setting them up to maximize their effectiveness, on the other hand, requires some consideration and planning.
Before getting started, outline your approach to cover the following four fronts:
Know your story.
Think about the elements of the display
Think about logistics (size, shape and spacing)
Set up a scene that is eye-level

Telling a Story
Your window display should always tell a story, no matter what kind of retail small business you run. A story can come in the form of a — thematic, a product release, a sale, a promotional period, or a history of the brand. Some of the more common story lines seen in retail window displays today keep it simple taking seasonal, brand-based or product-based approaches.

Seasonal Displays are a great thematic. They're easy to pull-off and can incorporate nearly any product you sell. They're also commonly associated with sales and specials, which naturally appeal to customers. Seasonal displays can be used year-in and year-out, provided you keep any creative — assets used in the display in good condition.
Brand-Based Displays focus almost entirely on the story of the business — from its history to its ethos. With a clear — identifier, a brand slogan and perhaps a small showcase of products, brand-based displays can stand on their own for a long time. The — theme will often match branded consumable items that the store distributes, like shopping bags or business cards.
Product-Based Displays showcase featured products, whether they be brand new, best-selling or sale items. In general, they require frequent updating since they should ideally display a wide-assortment of offerings. They can also require quite a bit of effort to truly showcase each product — not all products are made equal, and their — treatment should act to complement not confuse each one.
A quick tip: After you've planned a theme for your display, you want to make sure your products can fit within it to make a cohesive story. A simple strategy like selecting products with a similar color and texture can help tie everything together.

The Logistics
Though displays will vary based on the type of retail small business you run, there are a few base features you can't go wrong with:
A banner for the top of your display
A tabletop or platform to elevate products off the ground
Fabric options to use as backdrops or creative accents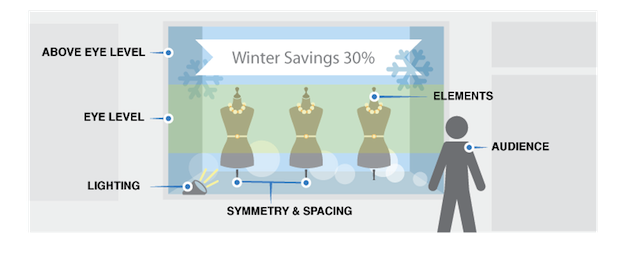 The key elements of your display should always be eye-level. No excuses.
The space just above eye level is ideal for one of two things:
Your value proposition
Eye-catching unconventional —s
Remember your audience; not everyone passing by your display will be on your side of the street. Make sure your messaging is big and bold enough to engage vehicle traffic and pedestrians up to 30' away.
Size does matter. If your window is elevated off the street, set display elements down so they're at a focal point. If you're feature a smaller product, display it on a podium.
Think about symmetry and spacing when organizing the parts of your display. Leave a few feet on the edges of the display to let your focal point breath.
Use lighting to highlight products. Try recessed floor lights that shine upwards — they'll showcase your featured products without creating distracting shadows.