End caps are very unique display fixtures. In their essence, they provide a two-fold purpose: they display items and they help to sell products. It's like bundling your marketing and sales efforts into one experience – visually they capture your attention, and functionally they help convert browsers into buyers.
Typically end caps are broken up into three vertical sections with distinct sales and display roles. The top section of your end cap is prime real estate for signage and messaging. The core is for showcasing your featured product and encouraging user-interaction. And the bottom is for holding additional stock.
If you follow the below best practices for each section individually, you'll end up with a compelling and effective overall display.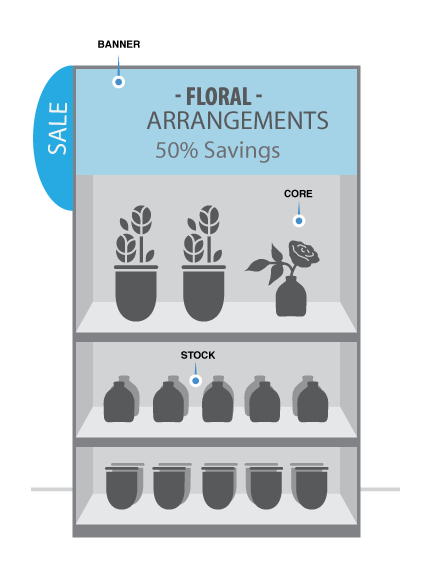 The Banner
End cap signage should be used first and foremost to establish a theme for your display. This is where you introduce your product and set up your story. The banner should also host your value proposition, which could be based on a promotion, sale or limited-time offer. Always remember, your signage should be eye catching and informative so that customers take the next step to interact with your featured product(s).
The Core
This area is for showcasing. Keep some general display best practices in mind here: don't overcrowd the area and place smaller items in front and bigger items in back. End caps can really sell products because they've got a great touch and feel experience – so set up your display items to enable interaction. If you've got an electronic product display, consider plugging it in so customers can test it out. If your product is consumable, consider offering free samples.
The Stock
The bottom section of your end cap is for storage. Keep this area well stocked, but don't lose visual appeal by cramming in too much. You don't want to make the mistake of hitting a home run on your display and falling short on your ability to sell it. Here's a hint: If you feel like you're re-stocking your end cap often, that means you're doing it right.

End Cap Placement
Most often, end cap displays are found at the end of long shelving fixtures, also known as gondolas. But even in the absence of such fixtures, retailers can create an effective end cap experience at the end of an aisle. The key is to create a display that transitions users between aisles and provides engaging touch points.
What's an alternative end cap experience? A wall-mounted digital display board. They're completely customizable and can be placed at the end of aisles to engage customers or complement other display items. Consider putting one up between aisles to slow traffic and create a transitional zone.
Placing a featured tabletop display at the end of an aisle can also create an end cap experience. Merchandising tables, or tabletop displays, are great touch-and-feel fixtures and can remind customers to take a minute and interact with products before walking past them. Staging an end cap scene with products found down the adjacent aisles is another alternative that can help drive foot traffic toward stocked product.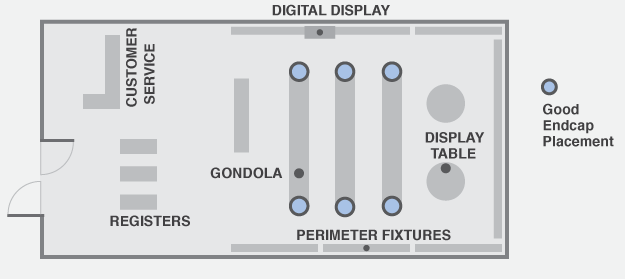 If you're new to end caps or haven't had the opportunity to take advantage of them, there are a few general things to keep in mind.
1. Stock them correctly. Not sure what items to display on an end cap? Featured or specialty products perform very well on end caps. In general, these items have a shorter shelf life and showcase well on this type of fixture. Commodity items are also good considerations since they'll turn over fairly quickly and sync up with the life cycle of an end cap display.
2. Update them regularly. Make sure you're updating your end caps often – for stores that sell consumables or perishable items, consider updating them weekly. For other retailers that are looking to showcase new inventory or promote sales items, make an update at least once a month. If you don't have any products in stock to refresh the display, take it down. It's better to have a fresh and fully stocked end cap than an old and outdated display.
3. Start out simple. You don't have to reinvent the display wheel with an end cap. In fact, keep it simple to start. You can't go wrong with a clean display that's well organized. Keep featured products front and center to maximize the showcase effect. Make sure stocked items are aligned, in order and in ample supply. And if your display isn't doing its job, don't be afraid to change things up.