Navigate to Top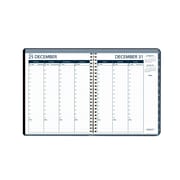 2018 House of Doolittle 8.5 x 11 Weekly/Monthly Tabbed Planner Black/Blue (283-02)
Item : 2418269
Each two-page spread for each month features a die cut tab for easy reference and it also allows you to see important dates and reminders. Each monthly two-page spread also features a notes section to keep you organized. The weekly pages feature one week view per two-page spread, with half-hourly appointments from 8:00am until 9:00pm. The planner core is bound strongly with wire binding and the planner cover features a strong black embossed simulated leather finish to withstand the daily use throughout the year. Go Green with House of Doolittle products, as we use 100% recycled paper containing 100% post-consumer waste with soy inks, 50% recycled cover material, and 90% recycled wire. All of our products are manufactured in the USA and are FSC certified.
The tabbed monthly section makes finding a date easy, includes a full Saturday and Sunday appointment blocks.
The House of Doolittle Weekly and Monthly Planner Calendar features 12 months for uninterrupted easy planning, from January 2018 through December 2018.