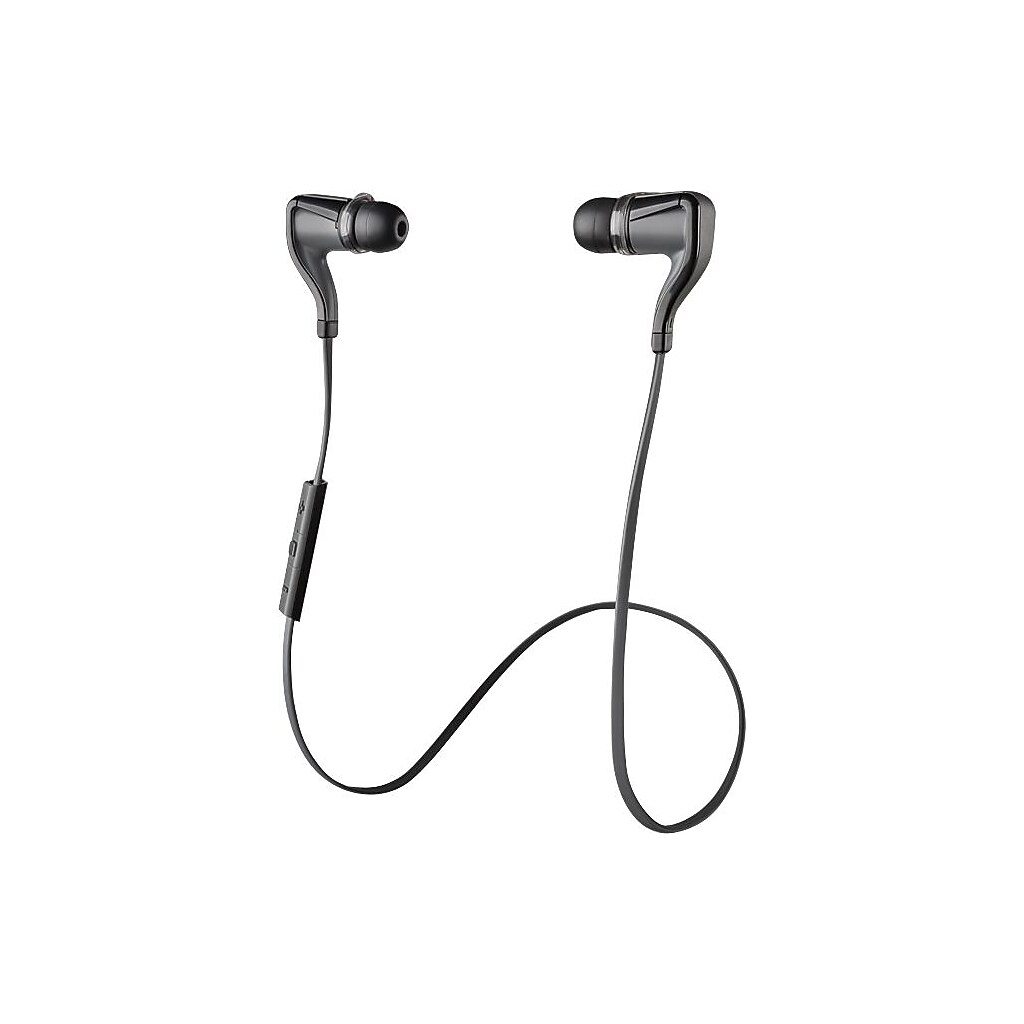 Plantronics Backbeat GO 2 Wireless Earbuds with Mic, Black
Item #: 233444
| Model #: 88600-06
This item is out of stock for delivery
About this product
Plantronics Backbeat GO 2 wireless earbuds connect wirelessly to tablets and smartphones with Bluetooth technology
Listen to music, movies and more with the freedom of no wires with these Plantronics wireless earbuds. A tangle-free cable connecting the earbuds features inline controls, which allow you to adjust the volume, change songs or even answer phone calls for convenient control. Nano coating keeps the earbuds safe from sweat, spills and other moisture sources, extending their life and making them suitable for use during exercise. Choose from the three included sizes of eartips and stabilizers to customize the fit for maximum comfort.
Wireless earbuds are compact for portability

Bluetooth technology connects the earbuds to your smartphone or tablet for convenient, wireless use

Tangle-free cord makes the earbuds easy to use

Inline controls on the earbuds offer a convenient way to change the volume, choose a track or answer a phone call

Military-grade nano coating prevents damage from moisture, such as sweat or spills, increasing the life of the earbuds

Cushioned eartips and stabilizers come in three different sizes for a comfortable fit with extended use

Battery supports up to 4.5 hours of listening or 5 hours of talking time for long use between charging

DeepSleep mode extends the time needed before recharging by automatically putting the earbuds into hibernation mode when away from the electronic device

iPhones and iPads show a battery meter for the earbuds onscreen
Enjoy the freedom that comes with this pair of Plantronics wireless earbuds. With the capability of connecting you to your smartphone or tablet, these Bluetooth wireless earbuds open up a world of convenience for you. Designed to be compact and long-lasting, these earbuds are resistant to moisture, which increases their longevity, allowing you to experience hands-free entertainment and social activities.

Convenient Design for Tangle-Free Portability
Featuring a compact composition, these Backbeat wireless earbuds are tangle-free, so you don't have to worry about those annoying wire knots when you place them in your pocket or purse. The special P2i military-grade nano-coating on the earbuds ensures that they remain damage-free from sweat, moisture and accidental spills, and with three different sizes of cushioned eartips, you can enjoy the comfortable custom fit during your daily activities.

Bluetooth Capability
Sport these wireless earbuds as you're watching your favorite program or working out to some pumped-up jams by using Bluetooth technology. Not only can you roam around your house while chatting freely with a friend, but thanks to the wireless feature, you can have your phone in another part of the room to facilitate easy multi-tasking.

Generous Battery Life
Finish the entire movie or enjoy an extended conversation thanks to the ample battery life this pair of wireless earbuds provides. Boasting up to four and a half hours of listening time and five hours of talk time, which can be monitored by viewing your iPhone or iPad screen, this device also utilizes a DeepSleep mode to help extend battery readiness for up to six months.