Navigate to Top
Apple headphones provide quality sound, and most options include a range of features that promote user comfort. From in-ear models to those with large foam pads that remain comfortable after long periods and ensure every tone comes through clearly, Staples carries a range of headphones from Apple that fit the needs of nearly any user.

Understanding Apple Headphones
Headphones by Apple are similar to other options available. They play music, let users control tracks and answer calls, and different models provide various features to enhance listening and comfort. While some products work with any device that has a standard 3.5 mm jack or Bluetooth, other styles feature a lightning connector and are designed specifically for Apple devices. Several options are ideal for use with iPods, iPads and iPhones to maximize sound quality and enhance functionality. When purchasing Apple headphones, be sure to check that they have the right type of connection for your particular device.

Discover Apple In-Ear Headphones
Traditional corded in-ear models work with devices that have a standard jack, including non-Apple devices such as portable music players and smartphones. Most models are ergonomically designed to follow the shape of the ear canal, improving comfort and enhancing sound quality by limiting the amount of outside noise that interrupts the music. Apple in-ear headphones also come with tips in three different sizes, ensuring a secure, comfortable fit for every user.

How Does Sound Isolation Work on Apple Headphones?
Apple EarPods come with silicone tips that form to the shape of the user's ear. This creates a tight seal that directs sound into the ear, so the tones are crisp and clear. These in-ear headphones also contain dual drivers with a tweeter and subwoofer, ensuring the entire range of music frequencies are accurate and precise. With the seal from the silicone tips, these headphones ensure users experience high-quality sound with less interference from environmental noises.

What Features Are Available With On-Ear Apple Headphones?
Apple has a range of on-ear headphones featuring soft cups that minimize pressure and discomfort when listening for long periods. Some models include cups that rotate to provide a natural fit to the ears, helping to seal in the sound and minimize leakage. Options with active noise cancellation send out opposite tones to sounds in the environment to eliminate them, ensuring users only hear their music. Wireless Apple headphones provide hours of listening with every charge and make it simple to move around without having to deal with cords.

Are Wireless Apple Headphones the Right Choice?
Wireless headphones let users listen to music without being near a device or receiver. Most models include buttons on the earpiece that make it simple to control tracks and answer phone calls. Headphones also include buttons for activating Siri, making it simple to get answers even when your device is across the room or in a pocket. Some models offer up to 40 hours of playback time, ensuring plenty of life for listening on the go, even if an outlet isn't available.
More
Less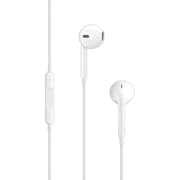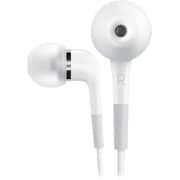 Apple In-Ear Headphones with Remote and Mic
Item : 164128
Noise reducing technology
Remote control functionality to adjust the volume and control playback from the cable
Steel mesh caps for protection and comfort during long workouts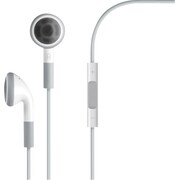 Apple Earphones with Remote and Mic
Item : 164126
Hear every detail of your music every time you tune in with the Apple In-Ear Headphones with Remote and Mic. They offer pro audio performance and impressive sound isolation, and convenient buttons let you adjust the volume, control music and video playback, and even answer or end calls on your iPhone.
Record voice memos on supported devices.
Answer and end calls.