Navigate to Top
A Staples® sit-to-stand desk is an excellent choice for adding more physical activity to long work hours when sitting at a desk, by allowing the user to stand, stretch, and move around more without leaving the office. If a person gets tired or needs to sit to complete a task, the desk adjusts back down. Staples carries sit-to-stand adjustable desks to support health without losing sight of work.

Benefits of a Staples Sit-to-Stand Desk
Sitting at a desk for extended periods of time isn't healthy. A desk riser helps increase physical activity throughout the day and reduces the adverse effects that sitting for 6 or more hours per day has on the body. A Staples adjustable desk may help a user maintain or lose weight, strengthen core muscles, and increase energy, as well as possibly lower the chance of a heart attack, diabetes, and cancer. Spending less time in a chair can also improve sleep quality. A healthy weight and good sleeping habits can increase productivity. For those with medical issues that prevent them from sitting for even a short period, sit-to-stand desks are an excellent choice. They can work while standing and sit for short breaks without interruption.

Using a Staples Sit-to-Stand Desk
Each desk comes preassembled in the box. Clean and dry the area of the desktop before securing the sit and stand riser. Set up the monitor or laptop on the top of the riser. While seated in an office chair, this is the ideal time to adjust the height of the monitor so that you are eye level with the URL bar on the browser in full screen. Then repeat the process while standing for an ergonomic work space. These desk risers offer 13 height positions to fit a variety of users. It's best to adjust the height of the keyboard tray separately, so it's at the mid waist while standing and the lap when sitting. The drawer also moves in and out to keep you 16 to 30 inches from the monitor.

What Are the Different Staples Sit-to-Stand Desk Sizes
It's important to have the right size desk riser to keep a good posture while sitting and standing. Choose from a 27 or 35-inch riser. The 35-inch one fits two 17-inch monitors or a single monitor and a laptop.

Does a Staples Sit-to-Stand Desk Have Weight Limits?
Yes. The weight of all your equipment must meet or be below the weight limits of the adjustable riser. This includes the monitor, speakers, keyboard, and mouse, or the entire weight of a laptop. The weight limits vary from 35 to 50 pounds.

What Finishes Are Available for a Staples Sit-to-Stand Desk?
Most sit-to-stand desks have steel or aluminum frames with laminate surfaces. Finishes are black and gray to match most offices.

Does a Staples Sit-to-Stand Desk Need Extra Room to Move Down and Up?
The desk risers are compact enough to fit onto most workstations, and they don't need room to function. You can move them up and down smoothly without interfering with the rest of your workspace.
More
Less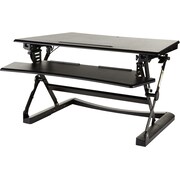 Staples Sit to Stand Adjustable Desk Risers
Item : SS6070680
Elevate and lower your workspace with ease, also includes a keyboard tray
Desktop risers offer an ergonomic and affordable solution to meet your sit stand needs
13 raised height positions to fit your individual needs