Beyond Black Friday Deals: Money-Saving Holiday Shopping Tips
by Margot Carmichael Lester, Staples® Contributing Writer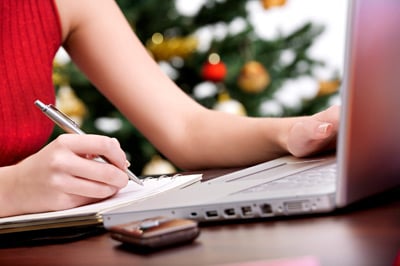 This holiday season, give a gift to yourself and shop smarter. Of course you can score fantastic Black Friday and Cyber Monday deals, but there also are plenty of ways to shave a few dollars off your purchases every other day of the holiday buying season. Skeptical? Luckily, we have money-saving holiday shopping tips to prove to you just how easy it is.
Plan Ahead
"One of the best ways to save time shopping during the season is to prepare beforehand," says shopping expert Jana Francis, founder of STEALS.com. "I start laying out my budget and lists well in advance so I'm not only prepared for the season, but done before the lines start to get long."
Do Some Holiday Homework
Many retailers, large and small, offer price matching, so check out the latest circulars, flyers, Web sites and even your inbox to find the lowest prices quoted for the items on your list. Bring documentation (printouts) to your favorite price-matching retailer and let the savings commence! Get details on Staples' Price Match Guarantee.
Another key to savings? Check the balance in any affinity or rewards programs you participate in through your bank, credit card companies and retailers. You may discover cash, credits or rewards just waiting to be used. These little extras can make a big difference in your holiday budget. And if you don't participate in these programs, now is the perfect time to sign up so you can stay on top of all the Black Friday deals, Cyber Monday sales and other holiday season savings opportunities.
You also can use rewards programs to buy now and save. Take the Staples Rewards® program, for example, where you get 5 percent back in rewards on all purchases. Say you want to wrap up a $500 laptop for your daughter. You'll get $25 back in rewards that you can spend on another gift or on something for yourself. And if you order that laptop online, you get free shipping on all staples.com® purchases as part of your membership too.
Make a Schedule
Take advantage of seasonal specials offered outside the traditional Black Friday deals and Cyber Monday sales.
Tricia Meyer of HelpingMomsConnect.com in Fishers, Indiana, likes the daily deals that are popular today. "Not only can you get a bargain price on one-day-only deals, but you might find items you would have never thought of for those hard-to-buy-for people on your list." Some deal programs are available only via email, others on the Web and some, like Staples, are available either way. Learn more about Staples Daily Deals.
"Many special sales and deals offered by retailers — both online and in store — are set to strict time lines," says Bob Sadowski, APR, marketing manager for Kettering, OH-based Acco® Brands, makers of AT-A-GLANCE® and Day Runner® products. "Make your own time line or itinerary noting the stores, products and sales you want to include in your trip. Be sure to give yourself some buffer time as well — long lines at the registers and gnarled traffic can ruin even the best-laid plans."
Planning can help you rack up additional time and savings when you purchase online and have the items shipped to you. Some retailers offer free shipping if you purchase by a certain date or spend a specific amount, so read that fine print. For instance, Staples will be making a change to its shipping policy. "For customers who are not Staples Rewards members, spend more than $19.99 and you don't pay for shipping, effective November 10, 2013," says Anneli Finn Bernard, director of marketing planning for Staples.
Gift for You: Staying on Budget
You may be thinking that the last thing you want to do during the busy holiday crush is invest time in saving a few dollars here and there, but Lisa Drake, a CPA, disagrees.
"They say the best gifts are the ones you yourself would like to receive, and in that vein, who doesn't want a little extra money in their bank account around the holidays?" asks Drake, a professor of accounting at Foothill College in Los Altos Hills, California. "Make sure you adhere to your holiday budget and learn to enhance it by giving yourself the gift of some well-deserved bargains and perks where you can find them. Use them, and you'll be giving yourself a gift you'd love to receive!"